A Medley of Controversies in Football Medicine
Friday 9th November 2018 at Old Trafford, Manchester.
Dr Steve McNally (Head of Football Medicine & Science, Manchester United) and Professor Michael Callaghan (Head of Physical Therapies, Manchester United) are pleased to confirm that the 2nd Manchester United Sports Medicine Conference will take place on Friday 9th November 2018 at Old Trafford, Manchester.

The day is open to medical, scientific and healthcare professionals working across all sports. The conference theme will be discussion and presentations of several medical and rehabilitation controversies that exist in football.

Where Greatness Begins
The world-renowned Manchester United stadium is a venue that has inspired legends and is the perfect stage for the 2nd Sports Medicine Conference.
The conference will take place in the Evolution Suite with views of the hallowed Old Trafford turf.
GETTING HERE
FROM THE NORTH
Leave the M60 at Junction 12 M602 (Salford / Manchester). At the end of the M602 (Junction 3) follow signs for Salford Quays & Trafford Park. At the roundabout turn right onto Trafford Road (A5063). At the bridge over the Manchester Ship Canal, keep in the right hand lane, turn right and follow the road round to Trafford Wharf Road, then left at the traffic lights onto Waters Reach. Continue through the traffic lights onto Sir Matt Busby Way.
FROM THE SOUTH
Leave the M6 at Junction 19 and take the A556 in the direction of Manchester Airport. Continue onto the M56 to Manchester, passing the Airport, and follow the signs to the M60 (Leeds/Liverpool). Leave the M60 at Junction 7 (A56 Chester Road) and follow the signs for Manchester United onto Sir Matt Busby Way.
PUBLIC TRANSPORT
The Metrolink service operates a frequent service from the City Centre (including Victoria & Piccadilly Stations) to Old Trafford station which is situated within a five minute walk of the football ground. Metrolink enquiries Tel: 0161 205 2000

North Western Trains operate a service from City Centre Stations direct to Old Trafford Stadium where the station is located alongside the South Stand. Due to the varied kick off times it is advisable to telephone National Rail Enquiries on: 0845 748 4950 for train times.
AIRPORT
Fifteen minutes by taxi.
Mr. Neil Hough MSc. MCSP
Head of Physiotherapy for Academy, Manchester United FC
Neil Hough qualified as a Chartered Physiotherapist in 1991. In 1997 he then took up a full time position at Liverpool Football Club, having worked there previously for 3yrs part-time.

He joined Manchester United in 1999 as Assistant Head Physiotherapist. In 2005 he completed an MSc in Sports Science at John Moores University.

In July 2014 he was promoted to the position of Head Physiotherapist and 2017 moved to become Head of Physiotherapy for Manchester United's Academy.
Dr Lee Kaplan MD
Professor of Orthopaedics, University of Miami Miller School of Medicine. Medical Director for the Miami Marlins Major League Baseball Team.
Dr. Lee Kaplan qualified in medicine in 1995 at George Washington University. He completed his residency training in orthopaedic surgery at the University of Miami/Jackson Memorial Hospital. He completed a sports medicine/shoulder fellowship, and a research fellowship at the University of Pittsburgh.

In 2013 he was appointed as a tenured Professor of Orthopaedics , biomedical engineering and kinesiology, and sports sciences at the University of Miami Miller School of Medicine. He is also the Petra and Stephen Levin Endowed Chair in Sports Medicine. Dr. Kaplan is currently Head Team Physician at the University of Miami, Athletics Department, the director of the University of Miami Sports Medicine Institute and Medical Director for the Miami Marlins in Major League Baseball.
Dr. Robin Thorpe PhD
Performance Scientist and Conditioning Coach at Manchester United FC
Dr. Robin Thorpe is a Performance Scientist and Conditioning Coach at Manchester United. Over the last 9-seasons Robin has worked with the first team delivering performance and conditioning support to players whilst overseeing and managing fatigue, recovery and regeneration practices throughout the Club. Robin completed his PhD at Liverpool John Moores University investigating methods of fatigue and performance-monitoring. This has led to a number of original articles published in peer reviewed journals and a position of Visiting Research Fellow at Liverpool John Moores University. Much of his work centres around a model of monitoring the player response to stress in order to maximize player availability, training load prescription and recovery and the reduction of injury and illness risk.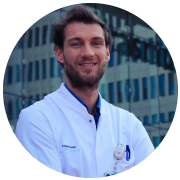 Dr Robert-Jan de Vos MD, PhD
Erasmus University Medical Centre in Rotterdam. Club Doctor Excelsior Football Club in the Dutch Premier League.
Dr. Robert-Jan de Vos is currently a sports physician and post-doc researcher at the Erasmus University Medical Centre in Rotterdam. He is currently the club doctor of Excelsior Football Club, in the Dutch Premier League. His PhD thesis in 2010 on imaging and treatment of chronic Achilles tendinopathy revealed that regenerative platelet-rich plasma injections (PRP) did not improve symptoms in this condition. These findings resulted in a scientific publication in the Journal of the American Medical Association (JAMA) in January 2010. During his residency in Sports Medicine from 2010 to 2014 he continued to research tendinopathies and projects on muscle and chronic tendon injuries. He was a clinical fellow at the leading IOC-research centre at Aspetar sports medicine hospital. In May 2015 he advised the Dutch healthcare organisation on the implementation of PRP injections for epicondylar tendinopathy as insured treatment.
Dr. Jeremy Loenneke PhD
Assistant Professor of Exercise Science, University of Mississippi.
Dr. Jeremy Loenneke is an Assistant Professor of Exercise Science at The University of Mississippi within the School of Applied Sciences. He received his BS in Health Management from Southeast Missouri State University, his MS in Nutrition and Exercise Science from Southeast Missouri State University, and his PhD in Exercise Physiology from the University of Oklahoma. His research group's primary focus is on skeletal muscle adaptations to exercise with and without the application of blood flow restriction. His recent work has answered several important methodological and safety questions with respect to applying blood flow restriction. Dr. Loenneke is a proud member of the American College of Sports Medicine and the American Physiological Society. He is currently on the editorial board for Sports Medicine and the Journal of Trainology.
Mr. Tom Hughes MSc, MCSP
Clinical Lead for the Professional Development Squad Manchester United FC; PhD student, University of Manchester
Tom Hughes qualified as a physiotherapist in 2001 at Leeds Metropolitan University and worked in the NHS to Extended Scope Practitioner level. He started at Manchester United in 2007 with the Academy, progressing to working full time with the Youth team in 2010, before his current position as Clinical Lead for the Professional Development Squad in 2015. Tom completed an MSc at the University of Bradford in 2007. He is currently completing a PhD at the University of Manchester, investigating the use of periodic health examination and injury prediction/prognosis in elite football. He has published several articles in sports medicine journals on the challenges of pre-season screening in elite professional football.
6 Key Talks... 6 Key Speakers
Following an opening welcome the 2nd Sports Medicine Conference features inspiring, insightful presentations from industry leaders providing valuable insights and learnings within elite sport.
Stem Cell Therapy: Worthy or Worrisome?
Dr Lee Kaplan
The field of regenerative medicine offers many biological features attractive to the healing of athletic injuries. The delivery and composition of the biologic treatment given are still being evaluated. The true indicators of success of regenerative medicine treatments will come from the evaluation of bioindicators as markers. Dr Kaplan will review the field of epigenetics and biomarkers in a way which is familiar and salient to the clinician involved in sports medicine.
Cryotherapy for recovery: more than just an ice bath?
Dr Robin Thorpe
Dr Thorpe will talk about the use of cryotherapy in its various forms and how this has been used to enhance recovery after training and match time in elite footballers. He will link this with some of his research into measuring match activity variables and markers of fatigue status.
PHE (screening) in Football: is the prognosis good?
Tom Hughes
In professional football and other elite sports, medical and performance screening of athletes (also termed periodic health examination or PHE) is common practice. Tom will present results for his published review on PHE in Football. He will outline what screening can do in terms of prediction, explain why the broader concept of prognosis may be more relevant to professional athletes and highlight how statistics can improve healthcare delivery in elite sport by evaluating PHE/screening practices and developing prognostic models.
Plasma Rich Platelet injections for tendon and muscle injuries. PRP is possible, but is it plausible?
Dr Robert-Jan de Vos
Dr. de Vos will explain the biological mechanisms of platelet-rich plasma (PRP) and its efficacy in treatment of muscle and tendon injuries in athletes.
Rehabilitation for acute muscle tears. Back in 3 weeks?
Neil Hough
Neil will present a season's muscle injury data, key diagnostic points and pertinent rehabilitation processes that inform treatment progression and return to play.
Blood Flow Restriction Therapy: Let's put the squeeze on muscles.
Dr Jeremy Loenneke
Dr Loenneke will explain how the application of blood flow restriction can be used to increase muscle size and strength. He will highlight methodological advances being made with this technique in the laboratory and will discuss how this knowledge can be translated into sport and clinical practice.
£150 per person
Included in your delegate fee is;
- Attendance at all sessions
- All Conference Documentation
- Attendance Certificate
- Refreshments & Lunch
- Attendee web link to the video of all talks & question sessions
Questions or Queries?
For any queries please contact us at medicalconference@manutd.co.uk