Noah Cappe
Host, actor and voice artist, Noah Cappe has a lot of characters up his sleeve. He's the ravenous emcee on Food Network Canada's and Cooking Channel's Carnival Eats and played the affable police chief on Hallmark Channel and W Network's The Good Witch for 10 years. He starred as host of W Network's Bachelor Canada and Bachelorette Canada, and has been a guest judge on Food Network's Beat Bobby Flay and Guy's Grocery Games, and on Food Network Canada's Iron Chef Canada.

He also dug up the nation's most coveted recipes from St. John's and Tofino with chef Lynn Crawford on Food Network Canada's Great Canadian Cookbook. Since February 2020, he has appeared as host with the most on Food Network Canada's Wall of Chefs, which features an unprecedented roster of numerous Canadian culinary icons!

Born in Toronto, Canada, Noah began his entertainment career in musical theatre in his early teens. He has since enjoyed a busy roster of film roles, TV appearances, and over 100 television commercials and radio spots.

Noah and his wife recently adopted a beautiful baby girl. He is an animal lover, a Curse of Oak Island believer, a big movie buff, and is even funnier in real life.




Hugh Acheson
Chef Hugh Acheson is a cookbook author and the Chef and Owner of 5&10 and The National located in Athens, GA, as well as Empire State South and Spiller Park Coffee. He also runs food and beverage programs for a number of hotels in Georgia and Florida.

Food and Wine Magazine named him "Best New Chef" in 2002 and the James Beard Foundation awarded him "Best Chef Southeast" in 2012. His first cookbook, A New Turn in the South, won the award for Best Cookbook in the field of "American Cooking" by the James Beard Foundation in 2012. He has since penned three additional cookbooks.

Chef Acheson competed on Bravo's Top Chef Masters Season 3 and starred as a judge on Top Chef Seasons 9-13.
Shawn Adler
Chef Shawn Adler is a member of Lac des Mille Lacs First Nation and is the Chef and Owner of The Flying Chestnut Kitchen in Eugenia, Ont., as well as the Chef and Owner of Pow Wow Cafe in Toronto's Kensington Market. Chef Adler discovered a love of food early in life while decimating his mother's vegetable garden. His passion for foraging for ingredients developed when his mother educated him on the edible elements in the bush like rosehips and choke cherries, and through the many fishing trips for pickerel and suckers on his First Nation.

Being from a mixed family of Indigenous blood on his mother's side and of Polish-Jewish descent on his father's, Chef Adler's inherent influences of cuisine are bold, interesting, and unique, much like the colourful fare he has become known for.

Suzanne Barr
Chef Suzanne Barr is one of North America's most respected chefs with a signature flair for fresh comfort food. She recognized the significance of food from an early age, growing up in a household with two novice chefs where preparing every meal was an opportunity to bond as a family, learn about cultural roots, tell stories, and express love. This instilled a lifelong passion to value the significant role food plays in nourishing not just the body, but the soul. Her food is a reflection of her roots and is ever evolving as she travels the world refining her culinary and personal education. Chef Barr's food philosophy is to create highly nutritious, flavourful, and comforting food with ingredients that are accessible, and all in an elevated way to make the ordinary surprisingly extraordinary.

Her impressive culinary repertoire includes: Head Chef/Owner at True True Diner in Toronto; Owner of Saturday Dinette; inaugural chef-in-residence at the Gladstone Hotel; a residency at Sand and Pearl Oyster Bar in Prince Edward County; and she is currently consulting on a new restaurant in Miami. She had a starring role as one of the chefs in the acclaimed documentary film The Heat: A Kitchen (R)evolution, is a resident judge on Food Network Canada's series Wall of Chefs, and hosts the online series HistorEats. Her literary works have been published in Foodism, Post City and Menu Mag, and her book My Ackee Tree: A Chef's Memoir of Finding Home in the Kitchen is due to be released in 2022.

Chef Barr regularly advocates for food security, marginalized communities, mental health, pay equity, nutrition literacy, and food source sustainability. This work has earned her Restaurant Canada's inaugural Social Advocate of the Year Award, a place in Post City's "T.O.'s Most Inspiring Women of 2020," and in View the Vibe's "Most Inspiring Women of Toronto." Her advocacy work spans from local grassroots initiatives to global organizations like Not 9 to 5 (a not for profit specializing in mental health promotion for the foodservice sector), and the United Nations.

Christa Bruneau-Guenther
Chef Christa Bruneau-Guenther hails from Winnipeg, Man. and is a proud member of Peguis First Nation. In 2015, she opened Feast Cafe Bistro, which serves modern dishes rooted in traditional First Nations foods. She is a home cook turned restaurateur who has spent over 20 years refining her cooking skills, all while expanding her knowledge of Indigenous foods, which is apparent in the passion and creativity woven into the fabric of Feast.

Since opening Feast, Owner and Chef Bruneau-Guenther's recipes have been featured in publications such as Canadian Living and Chatelaine, as well as on Food Network Canada. Chef Bruneau-Guenther and Feast Cafe Bistro have received multiple awards, most recently the 2019 Manitoba Woman Entrepreneur of the Year Award for a Business with a Community Purpose. Chef Bruneau-Guenther has a heart for her people and her community, which has only grown over the years and she eagerly anticipates the adventures that lie ahead.

Massimo Capra
Chef Massimo Capra came to Toronto in 1982, working in the kitchens of some of the most renowned restaurants in the city after an illustrious early career in Italy. In 1997, Chef Capra joined forces with Paolo Paolini, formerly of Splendido Restaurant, to open the hugely popular Mistura Restaurant. Chef Capra is the Chef and Owner of Boccone, Trattoria Veloce and Boccone Pronto in Toronto, and Soprafino Restaurant in Doha Qatar. Chef Capra lends his name to Massimo's Italian at Fallsview Casino in Niagara Falls and, in 2016, he opened Capra's Kitchen, a casual Italian eatery in Mississauga, Ont.

Chef Capra is the author of One Pot Italian and 3 Chefs: The Kitchen Men, which received the gold award from the Canadian Culinary Book Awards in 2011. He is the food editor for Canadian Home Trends Magazine and a long-time television personality, having hosted his own show Gourmet Escapes on TGTV Inc. He has also served as the chef host on Food Network Canada's hit series Restaurant Makeover and acted as a judge on Food Network Canada's top-rated series Chopped Canada, as well as on Wall of Chefs.
Alex Chen
Chef Alex Chen is the Executive Chef for the Sutton Signature Restaurants and a Partner at Wild Blue Restaurant, Whistler. A classically trained chef with a true taste for high-pressure culinary competitions, Chef Chen led Team Canada to a top-10 finish at the 2013 Bocuse d'Or in Lyon, France prior to opening Boulevard Kitchen & Oyster Bar in 2014. He then went on to claim top spot in both the 2015 and 2017 editions of the annual Gold Medal Plates regional championships in Victoria, B.C., as well as the gold medal at the national 2018 Canadian Culinary Championships.

In 2018, Chef Chen was awarded "Chef of the Year" honours at Vancouver Magazine's Restaurant Awards and led Boulevard Kitchen & Oyster Bar to the No. 31 spot on the prestigious annual list of Canada's 100 Best Restaurants that year, as well as No. 24 in 2020. He also received the Foodservice and Hospitality and Hotelier's 31st Annual Pinnacle Award for "Chef of the Year" in 2019.


Lynn Crawford
Chef Lynn Crawford has over 30 years of culinary experience. She has travelled throughout North America, working alongside world-renowned chefs at top destination restaurants and hotels. Chef Crawford has received international awards as the Executive Chef of the Four Seasons Hotel in Toronto and New York City. She is one of the most high-profile chefs in the country and has been invited to cook, speak, and mentor chefs and food lovers across North America.

Today, Chef Crawford operates critically acclaimed restaurants The Hearth and Hearth Market at Toronto's Pearson International Airport, showcasing the fresh and seasonal fare she's known for. It won Airport Casual Dining Restaurant of the Year at the 2018 Airport Food and Beverage Awards in Helsinki. Chef Crawford's philosophy of cooking is that food should be locally grown, harvested, raised, and cooked to perfection with heart. She has surrounded herself with an incredible team that helps her provide guests with the most fun, memorable, and delicious experience possible.

Currently starring on Food Network Canada's newest primetime cooking competition Wall of Chefs and Junior Chef Showdown, she can also be seen on Iron Chef Canada, Iron Chef America, Top Chef Masters(Season 5), Top Chef Canada, Chopped Canada, The Great Canadian Cookbook, and Restaurant Makeover. She also starred in Food Network Canada's Pitchin' In, which was nominated for multiple Gemini Awards, both as a series and for her dynamic hosting.
Christine Cushing
Chef Christine Cushing is an internationally broadcasted, award winning television host, and trailblazer in the Canadian culinary industry. She has been teaching Canada how to cook for over 20 years through her numerous series, including Food Network Canada's Christine Cushing Live, OWN's Fearless in the Kitchen, and Confucius Was A Foodie on PBS. Her YouTube channel "My Favourite Foods" attracts thousands of subscribers weekly.

Born in Athens, Greece, Chef Cushing completed the Food and Beverage Management Program at George Brown College, and went on to graduate at the top of her class at the Paris-based École de Cuisine La Varenne. She has worked in renowned kitchens, such as Toronto's Four Seasons Hotel, King Ranch Health Spa, and Scaramouche Restaurant.

Meeru Dhalwala
Chef Meeru Dhalwala is Chef and Co-Owner of Vij's in Vancouver, B.C., and the former Rangoli, which closed in May 2020 after almost two decades due to COVID-19. Hailed by the New York Times as "easily among the finest Indian restaurants in the world," Vij's boasts an all-female kitchen staff and incorporates various cooking techniques with local, organic and sustainable produce, meats, and seafood.

In addition to her work as a restaurateur, Chef Dhalwala is the founder of My Bambiri Foods, which is a line of original and textured baby foods. She has written three best-selling Vij's cookbooks: Vij's—Elegant and Inspired Indian Cuisine, Vij's at Home: Relax, Honey, and Vij's Indian: Our Stories, Spices and Cherished Recipes. She also holds honorary PhDs from University of British Columbia and Simon Fraser University for her professional and community work, which revolves around food, women, and sustainability.

Jae-Anthony Dougan
Chef Jae-Anthony Dougan is a creative Chef, father, and entrepreneur. He began his career over nine years ago and has built a name for himself across Canada for his innovative culinary creations. Chef Dougan launched his first restaurant, Seasoned Dreams, in Montreal, which he sold in 2019 and expanded to open another Caribbean restaurant in Ottawa called TINGZ. He has cooked for Drake, Boi-1da, The Weeknd, Issa Rae, and other beloved artists who rave about his cuisine. His expertise lies in creating authentic dishes with a modern twist that fuse various Caribbean cuisines.

In early 2020, he was the only international Chef invited to a private culinary experience at the infamous James Beard House in New York City. His latest venture includes the launch of Tropikal Restobar, a modern restaurant in the heart of Montreal that offers a unique and luxurious Caribbean experience. Chef Dougan appeared as a contestant on Season 9 of Food Network Canada's Top Chef Canada.

Rob Feenie
Chef Rob Feenie began his career as a Sous-Chef in Western Canada's top restaurants, notably Le Crocodile and Cherry Stone Cove in Vancouver, and The Rim Rock Café in Whistler. He went on to open his own restaurant, the internationally celebrated Lumière in Vancouver, followed by Lumière Tasting Bar and Feenie's.

In 2005, Chef Feenie became the first Canadian to win on the popular television show Iron Chef America by defeating Chef Masaharu Morimoto. He has written four cookbooks and is a two-time Vancouver Gold Medal Plates winner. He has received the coveted Relais Gourmand and Traditions et Qualité designations, in addition to the Mobile Travel Guide four-stars designation and the AAA Five Diamond Award. Chef Feenie is a culinary advisor for Cactus Club Café and is working on opening a new restaurant called Rob Feenie's.

Marysol Foucault
Since opening her restaurant Edgar in 2010, Chef Marysol Foucault has received many accolades, most notably winning first place at the Gold Medal Plates competition in 2014 and placing fourth at the Canadian Culinary Championships in 2015. Chef Foucault was also the spokesperson for Egg Farmers of Canada for two consecutive years, and has been involved with the Boys and Girls Club of Canada for the past two years, acting as the Canadian spokesperson for Kid Food Nation project.

Edgar, which was named in honour of Chef Foucault's father, has been featured on numerous television series, including Food Network Canada's popular series You Gotta Eat Here!. The restaurant has stood out by offering an inventive and colourful seasonal cuisine and was named Discovery of the Year 2014 by the Montreal Gazette.
Mandel Hitzer
Chef Mandel Hitzer has been in the culinary industry for more than 20 years, opening his restaurant deer + almond in Winnipeg's historic Exchange District. Since it opened in 2012, deer + almond has twice been named one of Canada's 100 Best restaurants (2017 and 2018) and has received numerous accolades from critics and fans alike for its food, atmosphere, and culture.

Chef Hitzer has played an integral role in building the culinary community in Winnipeg. In 2012, Chef Hitzer and designer Joe Kalturnyk teamed up to create RAW: almond, bringing chefs from all over North America to cook at the 21-day pop-up restaurant located on the frozen waters at the junction of the Assiniboine and Red rivers. RAW:almond has been celebrated in hundreds of articles, including by Conde Nast, as one of the best pop-up restaurants in the world alongside Noma and El Bulli. The event has also won tourism innovation awards on a municipal, provincial, and national level.
Kelsey Johnson
Chef Kelsey Johnson's passion for food has been a constant thread throughout her life. After a brief detour in the film industry, she found herself in her first kitchen at 21 years old and was in charge of her own kitchen at Culina Highlands by age 23. Over the next eight years, she developed her skills at various restaurants in Edmonton, traveled through Sweden, Denmark, and France, spent a summer butchering at Acme Meats, and refined her pastry skills at Duchess Bakeshop. Chef Johnson's time at Duchess Bakeshop led to a collaboration to open Café Linnea where she was able to combine her passion for butchery, gardening, baking, and cooking.

Café Linnea was awarded Canada's 6th Best New Restaurant in its opening year
and continued to gain recognition as a source of excellence in the Edmonton food
scene. Although the restaurant closed when the COVID-19 pandemic hit, Chef Johnson remained active in the food community, teaching culinary programs at NAIT College, as well as working as a private chef for functions.

Dale Mackay
Chef Dale MacKay was born in Saskatoon, Sask. and, like most great chefs, he knew at an early age that he was destined for the kitchen. Working with Chef Gordon Ramsay and Daniel Boulud for a decade before winning the first season of Food Network Canada's Top Chef Canada, Chef MacKay moved back to Saskatoon. Over the past eight years, he, along with his long-time co-worker and business partner Christopher Cho, spearheaded the opening of five award-winning restaurants: Ayden Kitchen and Bar, Little Grouse on the Prairie, Sticks and Stones, Avenue Restaurant, and Dojo Ramen.



Chef MacKay is a regular on Food Network, featured in shows such as Top Chef Canada, Iron Chef Gauntlet and Fire Masters.
Daniela Manrique Lucca
Moving to Montreal from Venezuela at a young age, Chef Daniela Manrique Lucca packed up for Florida after high school to pursue a career as a chef. She studied Culinary Management at the Culinary Institute of the Art Institute of Fort Lauderdale while working in several prestigious Miami restaurants, such as Azul at Mandarin Oriental, Miami. After completing a master's degree in Business Administration in Venezuela, she opened The Soca Kitchen in Ottawa with her partner Gustavo Belisario in 2014 and opened a second location in Fall 2021. Chef Manrique Lucca also developed a new concept called Plantain Cartel, which operated as a ghost kitchen offering delivery during the pandemic and opened its first physical location in Fall 2021.

Chef Manrique Lucca has made appearances on television, such as Ottawa Eats in 2015 and Takin' a Bite in 2018. She competed multiple times in Canada's Great Kitchen Party (formerly known as Gold Medal Plates), winning a silver medal in 2018, a bronze medal in 2019, and the People's Choice Award in 2019.

Mark McEwan
Chef Mark McEwan began his career as the Executive Chef at Toronto's upscale Sutton Place Hotel. From there, he opened the ground-breaking North 44 and McEwan Catering, which set a new standard for Toronto's culinary scene. Chef McEwan continued to push dining innovation with the launch of Bymark, ONE and Fabbrica, which now has multiple locations. Inspired by global food halls, Chef McEwan opened McEwan's Groceries, which has locations across Toronto.

Chef McEwan then showcased his innovative approaches to Middle Eastern, North African, and South Asian cuisine with Diwan at The Aga Khan Museum. Now, Chef McEwan mentors budding chefs in his kitchens, through his bestselling cookbooks, and as head judge on Food Network Canada's Top Chef Canada.
Roger Mooking
Chef Roger Mooking has earned an international reputation as a chef and entertainer, influenced by his culturally rich background, his love of people and travel, and interest in global flavours. The Trinidadian-Canadian chef, who has Chinese and Caribbean ancestry, trained under Japanese, Chinese, French, and Swiss German chefs. Chef Mooking has opened and consulted on many food and beverage operations, including Twist by Roger Mooking, located at Toronto Pearson Airport. Over the years, he has garnered many accolades, such as the prestigious Premiers Award, a Gourmand World Cookbook Award, a Socan Classics Award, a Juno Award, and countless "Best Of" mentions.

Chef Mooking appeared as host on Food Network Canada and Cooking Channel's Man Fire Food and Everyday Exotic, a co-host on Food Network's Heat Seekers, and a judge on Food Network Canada's Chopped Canada. His culinary talents have led to appearances throughout Southeast Asia, India, North America, Europe, Australia, the Caribbean, and Latin America, and he has been featured on The Today Show, Good Morning America, Top Chef Canada, Iron Chef, Guy's Grocery Games, as well as the special Chopped All-Star celebrity chef episode, which he won.

Todd Perrin
Chef Todd Perrin is the Executive Chef and Co-Owner of Mallard Cottage in Quidi Vidi Village, St. John's, N.L., as well as at WaterWest Kitchen & Meats in St. John's. Serving local ingredients in traditional and non-traditional ways, Mallard Cottage uses the bounty of Newfoundland land and sea to create a menu that changes daily. In its first year, Mallard was recognized by enRoute Magazine as one of the "Top Ten Best New Restaurants in Canada" in 2014. In 2019, Mallard Cottage was still recognized as one of Canada's top eateries, coming in at No. 17 on Canada's 100 Best Restaurants.

In 2017, Chef Perrin and his partners opened The Inn by Mallard Cottage. His latest project is WaterWest Kitchen & Meats, a neighbourhood butcher, café, bakery and deli in the historic West End of downtown St. John's. Chef Perrin was a competitor on Food Network Canada's Top Chef Canada and Top Chef Canada's All-Stars.
Nuit Regular
Chef Nuit Regular is the Executive Chef and Co-Owner of Sabai Sabai, Sukhothai, Kiin, and PAI, which was named a Toronto Star and NOW Magazine Readers' Choice Winner for Best Thai Restaurant. Chef Regular has transformed the Thai food scene in Toronto through the distinct flavours of Northern Thai cuisine and hospitality. It all began when Chef Regular opened the humble Curry Shack in the small town of Pai, in Northern Thailand. She made the decision to leave her career as a nurse so that she could share her passion and life experiences through family recipes, street market dishes, and Royal Thai cuisine in Canada.

The first Thai SELECT Ambassador for Canada, Chef Regular has been recognized by the government of Thailand for the authenticity of her Thai cooking and was awarded the prestigious Thai SELECT Signature designation for her restaurants. She has been a guest judge on Food Network Canada's Top Chef Canada Season 9 and appeared on Big Food Bucket List. She is the author of Kiin: Recipes and Stories from Northern Thailand, which was named a finalist for the IACP Cookbook Awards and the Taste Canada Awards.


Danny Smiles
Chef Danny Smiles is the Head Chef and General Manager of the 200-year-old Hudson, QC landmark, Auberge Willow Inn – one of the country's oldest hospitality institutions. Chef Smiles' cooking career began in the dish pit at his parent's Montreal hotel when he was 14 years old. He attended St. Pius X Culinary Institute in Montreal and travelled to Italy where he interned for Michelin Star chefs.

Chef Smiles' love of food and easygoing manner has led to appearances on numerous television shows, such as the third season of Food Network Canada's Top Chef Canada, Food Network Canada's Chuck & Danny's Road Trip, and Food Network Canada's Iron Chef Canada Season 1.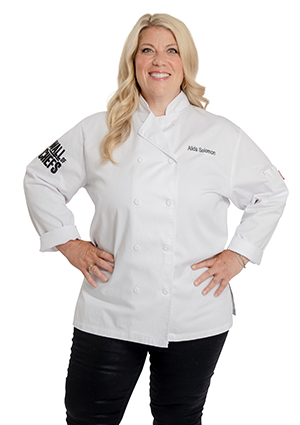 Alida Solomon
Chef Alida Solomon is the Chef and Owner of Toronto's Tutti Matti. Since its opening in 2002, the restaurant been hailed by critics and received both local and national awards, including the prestigious "L'Eccio D'Oro" in 2009 for Osteria of the Year, an award previously won by Alan Ducasse. In April 2016, Chef Solomon was awarded a "Fellow of the Institute" at the 2016 Ontario Hostelry Institute's Gold Awards, and in 2018 she was awarded the Institute's Gold Award for Chef.

Chef Solomon lived and worked in Montalcino, Tuscany for six years and was highly respected in the regional hospitality industry, where she worked at the hilltop restaurant Boccon di Vino, earning it Michelin recognition. Chef Solomon is currently working on Motherland, a documentary filmed in Italy that celebrates women in wine and food.
Joël Watanabe
Chef Joël Watanabe is the Chef and Owner of Kissa Tanto and the Executive Chef of Bao Bei Chinese Brasserie in Vancouver, B.C. His unique approach to Asian ingredients by incorporating classic French and Italian with Japanese techniques brings a rich and subtle touch to all his dishes. In 2010, Vancouver's Bao Bei opened its doors and immediately gained the public's attention with its innovative take on modern Chinese cuisine. Among many other awards, Bao Bei was named as one of Canada's Best New Restaurants in enRoute Magazine in 2010.

In 2016, Kissa Tanto was named Canada's Best New Restaurant in enRoute Magazine, and Best New Restaurant in Canada's 100 Best Restaurants in 2017. It placed 14th in Canada's 100 Best Restaurants 2017, 10th in 2018, 16th in 2019, and 12th in 2020.