A word from our sponsor Adrian Flux...
Adrian Flux couldn't be more proud to be sponsoring Practical Classics' Restorer of the Year 2022. Having helped to insure classic cars for over 45 years, they're perhaps more familiar with them than most. We're sure many avid classic car owners will discover how their own pride and joys could be enhanced with the tips in each magazine. If you're looking to insure your classic car or Practical Classics has convinced you to invest in your own classic, look no further than Adrian Flux

When Steve Brandreth found his old Ford Capri for sale three years ago, there was only ever going to be one outcome, albeit one that required a lot of welding…
It's a feeling that many of us can relate to. One day, we're young free and single; the next we're burdened with nappies and wet wipes, car seats and the inability to leave the house without at least an hour's prep time in advance.

Welcome to the world of having very small children. A world that, for Steve Brandreth, led to him parting with his cherished Ford Capri MkIII in 1990 and replacing it with an altogether more sensible and more frugal Escort Estate.

It's a passage of life that has led many of us back to the cars we loved when we were younger, as soon as personal circumstances allow. Indeed, Steve wouldn't be the only person to buy himself a Ford Capri 28 years after selling his last one, in a bid to relive the pleasure and enjoyment that the car brought to his younger self.

There aren't many people, however, who end up with the very same car they parted with almost three decades previously - and that was never Steve's intention, either. Having sold his Capri after the birth of his first son, Steve had finally decided it was time to source a replacement. Whilst browsing the small ads one idle Friday evening in 2018, he stumbled upon a gold Capri 3.0 Ghia that was for sale in Northern Ireland.

It was only when Steve looked into it further that he discovered the car for sale just across the Irish Sea from his Cheshire home was DLG 444S, the very same Capri 3.0 Ghia Automatic that he had given up because it's prodigious thirst and general impracticality didn't sit very well with the pressures of having a new baby back in 1990.

What followed was, of course, inevitable. Just a week later, Steve found himself on a flight to Belfast, ostensibly to 'go and have a look' at a car he'd not seen for 28 years. In reality, he knew exactly what was going to happen.

'As soon as I bought the plane ticket, I knew that I'd be buying it,' he said. 'The personal and emotional attachment was far too great for me to walk away, even if the car turned out to be a complete shed or to be more expensive than it should be for its condition.

'Of course, it turned out to be both. But this was a once in a lifetime opportunity to own a car that I absolutely adored the first time I owned it and genuinely shed a tear about when I waved it down the road in 1990, never expecting to see it again. Needless to say, on the return flight I was quite a bit poorer, but more importantly my much-loved Capri was coming home.'

The fastback Ford arrived in Widnes a couple of weeks later and from 10 paces it looked pretty decent – given that Steve had expected it to be scrapped may years previously, especially as its time in Northern Ireland had made it disappear from DVLA vehicle records. The fact it was all in one piece was remarkable enough, but on first glance the Capri really didn't look too bad, as if it were a little tired around the edges but nothing that some careful cosmetic fettling wouldn't put right.

It was only when Steve got further into the project that he realised that he actually had a full restoration on the cards. The floors, sills and front inner wings of the Capri were all rusty, while difficult to source areas such as the headlight bowls and upper rear panel were also shot to pieces.

'In fairness, there was nothing that was covered up,' said Steve. 'It's more that when we started to look more closely at the areas that needed attention, every single one of them turned out to be in far worse condition than we expected. I had to weld up all the floors and the lower body work and rebuilt the inner wings myself, while for some of the upper body repairs, I had to give myself a crash course in a skill I've never learned before.

'The only way to restore good metal to the areas of the upper body work that had succumbed to rust was to teach myself how to lead load, so complicated areas of the Capri's structure such as the rear D-pillar, front and rear screen surrounds and upper parts of the rear quarter panels were all painstakingly and slowly restored using one of the oldest and most traditional bodywork repair methods in the book. I can't even start to think how many hours I put into it, but the end result was worthwhile as I know it's properly done and that the panels of the car aren't full of filler.

'Apart from the wings, we managed to salvage almost all of the body panels though I did have to extensively repair the tailgate and some areas the roof panel.' Attention to detail was critical, too. If Steve was going to go to the effort and expense of restoring the body work, he wasn't going to cut corners on items such as door window rubbers, headlamp bezels or other parts of the black body trim that define the Capri MkIII. As such, where things couldn't be restored, they were replaced with brand new, adding further to the expense of the project, which was rapidly mounting up.

'I think, like anyone who takes on a project like this, I've probably spent way too much," added Steve. "But then this isn't something you do on a budget. I'd rather take the time and make sure all the jobs are done properly.' As well as the bodywork, that includes the mechanical side of the car and while the Capri was in reasonably good running order when it arrived back in Cheshire, the Essex V6 was completely rebuilt regardless.

'It struck me that there was little point not checking and rebuilding the engine whilst it was out of the car,' said Steve. 'If we put it back in and it later turned out to be showing signs of wear or excessive oil consumption it would have only had to come out again. In the event, I'm glad we did, as although these old Ford V6s will run forever and this one sounded great and was running smoothly, we discovered some quite significant wear to the bores and crank. It wasn't showing symptoms at the time but could well have caused problems later on. At least I now know the Capri is in excellent mechanical order as well as strong in the body.'

With the shell and engine completed and the outer body sent off for painting – the only part of the restoration that Steve didn't do himself – he turned his attention to the interior, which had survived surprisingly well for an old Capri that has been around the clock.

The driver's seat required some repairs to the bolsters and there were one or two items of switchgear that Steve chose to replace with better examples, but overall, it was still very well presented and responded well to a very good clean.

There is, however, one area of damage on the car that will never be removed. If you look closely at the rear seat of the Capri, there's a small tear in the brown vinyl part of the seatback. 'I still haven't forgiven myself for that,' said Steve. 'I was always quite fanatical about looking after my cars even with a young family, but as an amateur at loading up prams and other associated baby paraphernalia, I accidentally caught the pram on the car seat and put a tear in it. That was when my son was less than three-months-old and I couldn't believe how clumsy I'd been.

'When it came to restoring the car, I discovered that very same small amount of damage I caused three decades earlier was still there, and I couldn't decide whether I should restore it or leave it. But in the end, I left it there as it's very much part of my own story with the car and one of the things from my first period of ownership that remained with the car throughout its life thereafter. I'll let my son decide what to do with it when he inherits the car, as it's his fault that the damage is there in the first place! For now, it's part of this car's story and I'll not change it.'

That's just one of the smaller details that give this car such charm. Others include a faithful recreation of the original 'Glebe Motors, Widnes' dealer sticker that was in the back window when Steve acquired the car directly from that very garage in the mid-Eighties, or how about the period Cibie driving lamps that were once such a common period accessory? It's not over restored either. Instead, Steve is focused on keeping it usable with wider aftermarket alloy wheels and a full stainless steel exhaust system, along with uprated front brakes. These are features that aren't original, but they do make it more fun in modern traffic.

The Capri was finally completed in the summer of 2021, with Steve and a few of his colleagues putting in the final hours to get the finished project across the line between jobs at work. But the most emotional part of the restoration came right at the end. Having got the car road legal and through an MOT test, the very first person other than Steve to jump behind the wheel was his son, Graham, by now aged 30. 'The last time he travelled in the car, he pooped himself,' laughed Steve. 'I almost did the same on my first trip out in it as a passenger, after all that hard work!'

What's it like to drive?
There's nothing quite like a Capri. From its vast bonnet stretching out ahead of you like the landing strip of an aircraft carrier, to its low-slung driving position, it's as close as you'll get to a US muscle car from a European model. Fire up the Essex V6 and the rumble from beneath that vast bonnet delivers a promise of excitement.

It's unrefined, slightly crude even, but in a way that stirs the senses. Even in automatic form, it's an exciting car with more than enough power for its relatively light weight, while the power steering and uprated brakes in this example make it an effortless and enjoyable car to drive both in town traffic and out on the open road.

With fuel economy in the low twenties at best, you probably wouldn't want to use it every day - especially at today's fuel prices - but for a 45-year-old car it's astonishingly capable and the tight and responsive nature of this particular one is a testimony to Steve's hard work.

The restorer
Steve Brandreth has been around cars for all of his life and currently runs a business specialising in repairing and resetting ECUs – a far cry from the analogue experience of an early Capri MkIII, which represents a refreshing change from the norm for this car mad man from the Wirral. The Capri is one of over 20 Fords he's owned, and is now the one he'll never get rid of…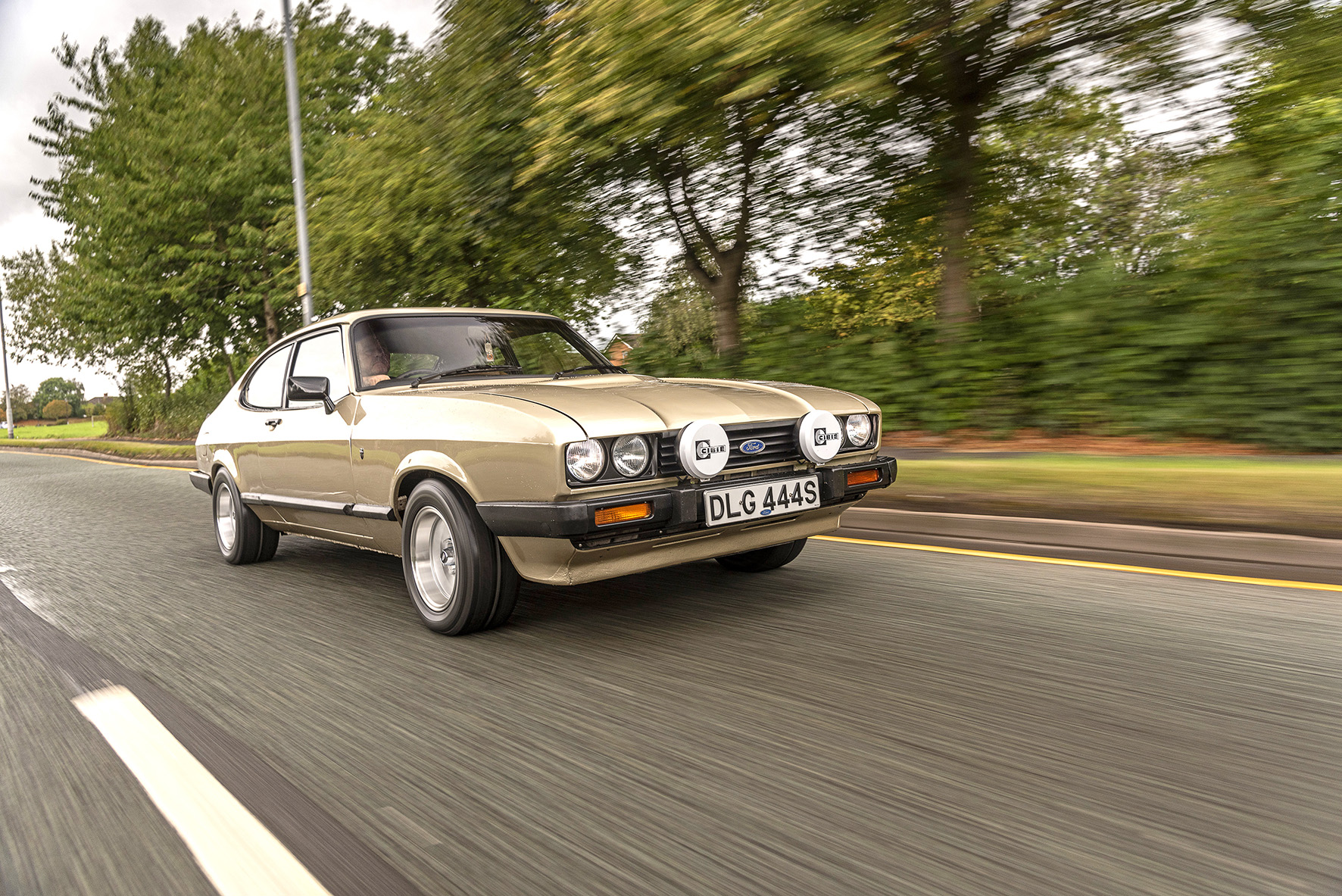 Useful contacts
Capri Club International -
capriclub.co.uk, Power Tune Garage Services, Widnes - powertune.org 151 423 5495

Peaceful Rescue
Barry Hoper and Lee Robinson rescued this Triumph after spotting it in PC's 'Rust in Peace'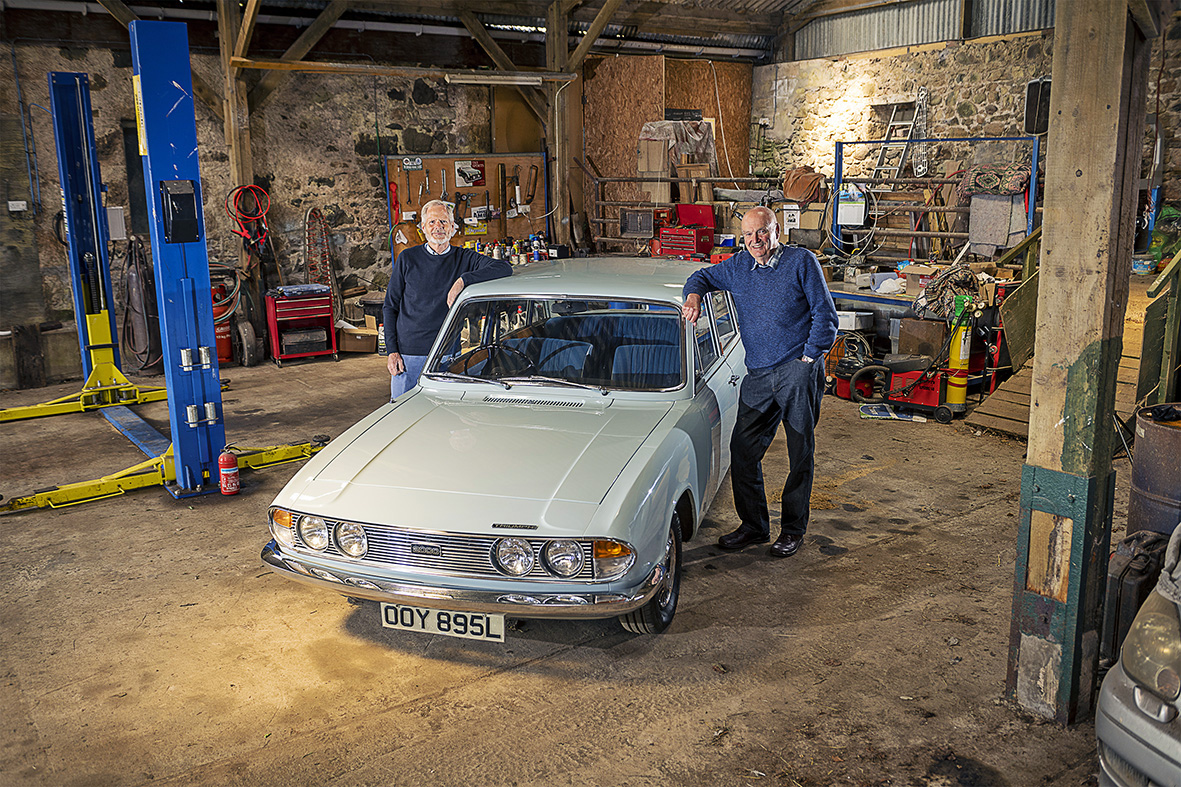 This 1972 Triumph 2000 MkII was featured in Practical Classics in 2018 as 'Star Find' of the month, among the Rust in Peace pages. I saw it for sale on eBay soon after, so me and my friend, fellow classic car enthusiast Lee Robinson, decided to snap it up for a grand! Having rescued it from the barn near Loughborough, we brought it back to where we live, in the Aberdeenshire town of Insch. I've been friends with Lee for years, but we have only worked on our little fleet of classics together for the past six years or so.

Nevertheless, we've developed an effective system of restoration and we were therefore easily able to hatch a plan! As every restorer knows, it's always good to know what you're dealing with before you start, so we delved into the car's history and found it to have been very well loved. Its first owner was an Alec McKee of St Albans in Hertfordshire, who kept the car in excellent order until passing it on to his niece in 1984. She enjoyed it for a decade, but by 1994, the car had become a bit shabby. It was at that point, for whatever reason, it ended up being put into storage in the barn.

Lee and I stripped the car completely and decided to tackle the engine first. It was completely seized, but after several weeks of the bores being filled with diesel, we got things moving and removed the unit. Mechanically, reviving the Triumph turned out to be a fairly trouble-free process. Lee used a big block of wood and a lump hammer to knock the pistons out and, having honed the bores, we couldn't find a mark on them! The engine was stripped down and refurbished with new valves, rings and pistons and with the suspension dismantled, we cleaned and painted every part, adding a set of new bushes.

We had a feeling the bodywork would be the biggest job – and it was! As mentioned, the car had been fairly well looked after in
its lifetime and fairly well preserved, but it's half a century old, so there were bound to be a few areas of concern. First thing we did was remove all the rust from the body. We didn't put it on Lee's ramp at his farm as it would have tied it up for goodness knows how long, so we rigged up a thoroughly planned arrangement involving oil drums and axle stands to keep it all secure!
As Found
Subscribers to Practical Classics, pals Barry and Lee remembered the Triumph's starring role in the mag as a shabby 'RIP' barn find, so they were quick to snap it up when it appeared for sale online. It wasn't a complete wreck, like so many of the cars featured!
Rust Busting
We started with the front corners and front valance, welding new metal in, and worked our way back, finding the sills to be the biggest job as, although we've seen worse, they weren't in a brilliant state. You can buy a kit for the 2000, but it's hundreds and hundreds of pounds, so we fabricated new sills ourselves. What hadn't helped was a partial collapse of the barn roof where the car had been stored, so there was some minor damage from that to be dealt with. There was a myriad of small dents all over the body, which got filled carefully and rubbed down. We then gave the car three
coats of primer and resprayed in its original colour. Both windscreen and rear screen would need replacement, as they'd been damaged while in storage. Along with a new rear light lens, we had sourced the new glazing from a scrap yard in Doncaster and had picked them up on our way back to Scotland some months before.

The cabin was beautifully preserved, but quite dirty, so I spent many hours cleaning it up. I fitted new carpets and door seals, but otherwise it's all original. It's one of those cars that people seem to
remember fondly and we're just glad to have saved another one from the scrapper!
Power Plant
The Triumph's engine was seized after years of inactivity so, after being soaked in diesel for some weeks, it was freed up and fitted with new valves, rings, pistons and bearings and, while the gearbox was OK, Lee replaced the clutch and all the oil seals. Lee spent a great deal of time perfecting the unit. 'I wanted it to run like a Swiss watch!'
Inside Story
The Triumph's cabin was filthy with years of dirt and mould. Barry spent weeks carefully cleaning and bringing it all back to life, scrubbing the fascia, seats and headlining. He gave up on the dirty and worn carpets though and bought a new set, along with better door seals. The car retains its typically Seventies Triumph aroma.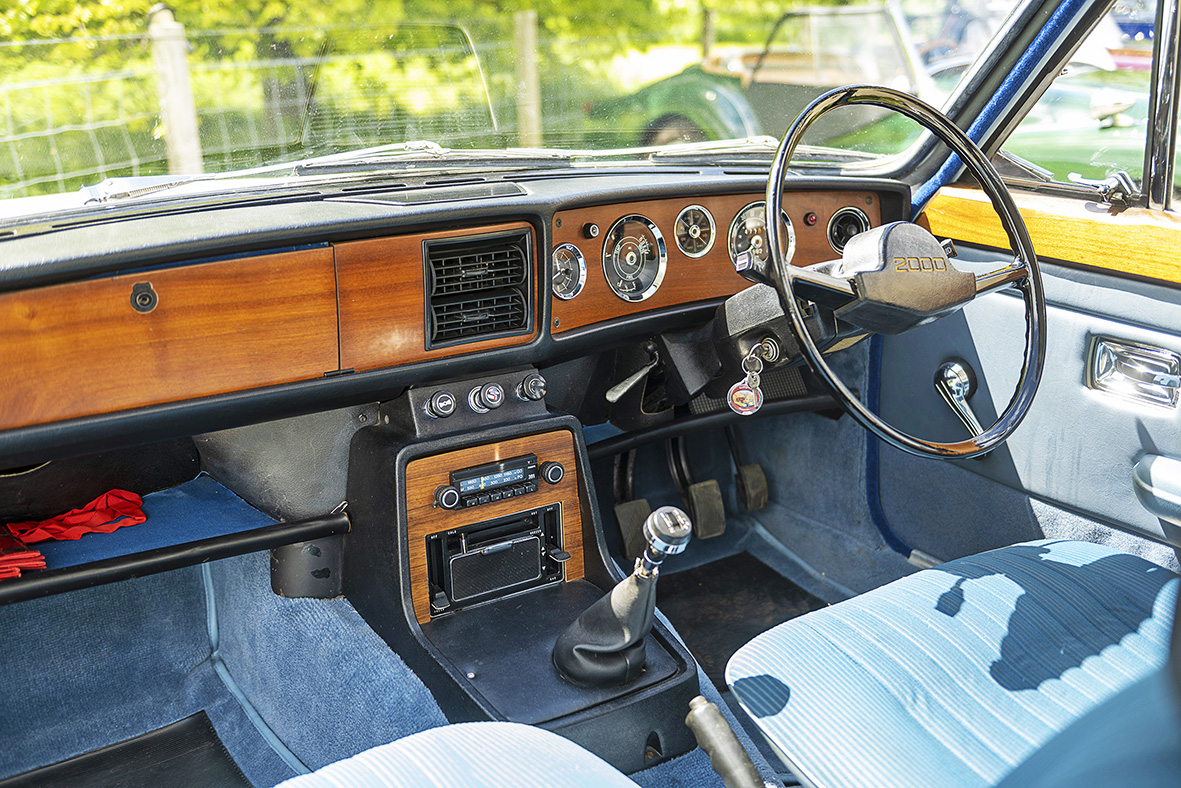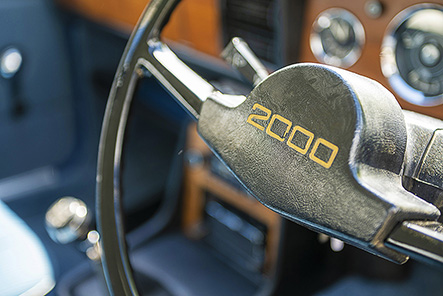 Time taken - 18 Months, Estimated cost £3000. Best Help - Get a mate involved if you can. Not only do you have an extra pair of hands, it's a good excuse to socialise, too!
Generation Game
This Escort RS2000 failed to take a roundabout one day – but took Andrew Morgan's daughter to her wedding and now takes his grandson to car meets!
1974 Ford Escort MkI RS2000
'Grandad's car' normally brings to mind a dusty Austin A30 or a staid Rover – but when Grandad worked for Colin Chapman, you can bet something more exciting is stashed in his garage. Morgan Langdon is therefore a very lucky grandson, having regular rides in a spotlessly restored 1974 Ford Escort MkI RS2000. But while Morgan has helped out with the project along the way, the car's journey from wreck to resto started before he was even born – and involved grandfather, Andrew Morgan in more drama than the average restoration. Along the way, it's cemented a strong relationship between the two of them.

Andrew's engineering career started in Norfolk. His father owned a boatyard and tuned Jaguar E-types and XJ6s. Andrew and his father were frequent visitors to Lotus's Hethel HQ, having special permission to use the test track to put the Jaguars through their paces. Andrew spent his first working years in Chapman's boatyard [and was even married to the great man's PA] and so the go-faster impulse was reinforced with a great deal of specialist knowledge. He went on to establish his own firm building powerboats then was invited to move to Devon to set up a business which restored E-types. He retired after some 30 years to spend more time with his family and his own projects.

Although his CV is Jaguar-heavy, Andrew has a passion for Fords and parked on his driveway by the garage is an immaculate 1999 Escort van in Diamond White (the same as the RS) with Ford motorsport decals. It's spotless in every detail. Andrew modestly admits to having 'done a little bodywork on it, but it's nothing special, really'. We beg to differ. He lets slip that his current project is a Sierra-based P100 pickup. Our admiration does not diminish.

The car that we've come to see, though, lives in a generously sized and immaculate garage. The space is garnished with neatly displayed automobilia and even a large model aeroplane swooping from the rafters. Its centrepiece is a 1974 Ford Escort MkI RS2000 in white with blue detailing. It has wider wheels, wider arches and lower springs than it originally had, plus its 2-litre Pinto engine has been lightly breathed-on. But before you get the loss-of-originality blues, consider that everything is appropriate to its era and the whole thing is perfectly set-up. Andrew acquired the car after it had spent years rotting away with accident damage, so he had a more-or-less blank canvas to make a few tweaks here and there during the reconstruction.

The car's second life began rather inauspiciously when its third owner failed to negotiate a roundabout. It was towed away, then parked up and left. In 1979 Andrew heard about it. £475 later he was the new owner of a complete car with bashed panelwork and dull red paint which was peeling off to reveal a white factory finish. It was a good time to buy an RS2000, since the industry devoted to fast Ford replicas (and dodgy replicants) had not yet taken off – and nor had the prices. The car has all the correct body features, chassis plates and stampings and is in every way the real deal. In a surprising twist, the original owner spotted it, freshly restored, returning from a rolling road session on the back of a trailer and followed it back to Andrew's house for a chat!

It sounds like all fun and games, but Andrew and his Escort had some close shaves along the way. He was at work one day when the place caught on fire. The only thing that could be salvaged from what quickly became a very intense blaze was the Escort – which was dragged outside by fire crews, unscathed. It took six crews 18 hours to put the blaze out. No matter, Andrew soon had the shell prepped and painted, working in a hired facility. He was also busy building the garage-workshop by his house where he could reassemble the car. He designed and constructed it himself and was working on the roof when he missed his footing and fell off, breaking two bones in his leg. Taken away by air ambulance, it was three months before he was able to walk again. This unfortunately left him only six weeks to finish it off - because his –Kaylee wanted to use it as a wedding chariot. With all of Andrew's tools and facilities gone, Kaylee very generously put several thousand pounds into making sure he could make it happen. The day of the wedding was its first day back on the road. It performed faultlessly – which was no doubt a relief but, as we'll see, hardly a surprise.
In fact, there are no more surprises in this story, because Andrew knew exactly what he wanted to do and how he wanted to do it. The RS2000 is somewhat enhanced from the original factory specification. What it isn't, though, is a collection of tuning parts randomly chosen from a catalogue. You don't need Andrew's reassurance of this – you just need to drive it. It's sublimely well-sorted and is just as capable of a quiet drive in the country as it is of hooning around a track. It's comfortable, it's quiet (you can thank the wedding duties for that), it's easy to drive and handle and you don't have to worry about keeping it going in a straight line or, indeed, round a corner. It even sounds refined: the sports exhaust has a business like but inoffensive rasp and the engine sounds ever-so-slightly menacing yet runs with the perfect regulation of a Swiss watch.

The basis of the car was the Type 49 shell, used for Mexico 1600, RS1600 and RS 2000 models. Between 1970 and 1975, these were produced in Ford's AVO (Advanced Vehicle Operations) plant in Aveley, Essex. Reinforced chassis front legs, strengthening gussets and extra stitch-welding ensured it could put up with light competition use and was the perfect base for a full-time race or rally car. The rear axle got anti-tramp bars to stop it winding up its leaf springs; anti-stone panels were fitted front and rear and there was an alloy sump which aided oil cooling. Andrew went on to add lower road springs but opted for original-spec dampers all round. 'You can fit adjustable ones, but I think the factory guys probably had the setting right to begin with,' says Andrew. 'I can't improve on that.'

The rear axle has a limited-slip differential to give those anti-tramp bars some work to do. 'The steering's very neutral,' he notes, 'although it's heavy because of the 8.5-inch rims I fitted.' They don't look out-of-place, do they? 'No, well, the design is a very close copy of the RS4 rim which was originally fitted.' For reference, there's just such a thing stood by the garage wall. At a mere 5.5 inches in width, it looks almost puny. The small sports steering wheel (non-assisted) concentrates the driver's mind (and arm muscles) on corners, but at all times, the car responds to any input instantly and with an iron grip on the road.

The unassisted brake master cylinder sends fluid through a bias box, which allows adjustment of the front-rear balance. The front brakes use M16 brake callipers and ventilated discs, though the rear axle retains its standard drums. The pedal is rock-solid and again requires a physical effort that's both quite satisfying and perfectly responsive.

The controls and switches fall naturally to hand on the modified dash. Auxiliary instruments pepper the centre console, but ahead of the driver are an electronic speedometer and the all-important tachometer. Andrew notes that the original clocks are all preserved, as is everything original that's been put out to grass. The electronic speedo allowed effortless calibration, as the car's four-speed gearbox was supplanted by a Ford Type 9 five-speed model. Apart from a digital odometer, the clocks don't look out-of-place and are clear, functional and unpretentious. Sitting on the surprisingly comfortable FIA-approved rally seats, the next thing that catches the eye is the roll cage. It's a genuine Escort MkI tubular frame mounted to 6mm reinforcing plates under the floor.
'A friend had it hanging in his garage as a piece of wall art,' observes Andrew. 'He'd taken it out of a car he used to rally, so it was really easy to fit.' Carpeting and soundproofing give the car a civilised feel which belies its capabilities.

Stepping out of the car, there's a large rusty shard stood against the wall. 'Oh, yes – that's the remains of one of the floor pans,' says Andrew, who is quite reticent about the sheer amount of work that went into this rebuild. Asked about the bodywork – and those flared arches – he says, 'everything's properly stitch- or seam-welded as it should be. I gas-welded it and then I lead-loaded it. No body filler. You do the work properly like that and it doesn't sink and, more importantly it doesn't crack. The lead increases the mass and solidity of the panels to give really good sound-deadening properties, too.'

Moving on to the engine bay, Andrew points out that the Pinto engine has been bored out from 2.0 to 2.1-litres. The RS2000 was supposed to give Mexico 1600 levels of performance, but with absolute ease - eliminating the highly-strung nature of the smaller engine. Thus, there's some headroom left over to increase its modest, original 100bhp. After the rebore, Andrew fitted the first piston and grandson Morgan did the other three. The engine has a Stage Two camshaft (fast, but still civilised), a big-valve head and a 10:1 compression ratio. The flywheel is lightened, but the crank required only polishing: its balance was already perfect. It runs a dual-choke Weber 38 carburettor. Andrew knows his carburettors. 'The 32/36 would actually do 40mpg,' he observes. 'Twin 45s were amazing, but hard work to drive. The 38/38 was a perfect compromise.' It's fed by a high-flow Facet electric pump via a Filter King filter/pressure regulator set to a modest 3.5psi. In the original car, the fuel tank lived in the right-hand rear wing of the car and the spare tyre in the left-hand wing. Now, the boot floor is shared by a full, 8.5in wide spare wheel and a competition fuel tank with three times the capacity of the original. The cast-iron exhaust manifold has been replaced with a four-into-one 2.5in tubular unit and a sporty yet discreet free flow stainless exhaust is connected to the end of it. The whole setup has covered 5000 trouble-free miles so far.

'I'm not shy about using it in the rain, getting it dirty – or even the possibility of something breaking or getting damaged,' explains Andrew. 'It's a car to be used and enjoyed. There wouldn't be much point in having it otherwise.' It doesn't tend to do short trips... they tend to accidentally become a day out.

So, what of the future? Grandad Morgan has five grandchildren. Grandson Morgan (14) has a Fiesta 1.1 that is next in line for expert attention, alongside the P100, while the youngest (18 months) demands to sit in the RS when visiting. Andrew has plans to build a second workshop behind his garage for Morgan. He's just restored a BMW 320 for his son – into which he's inserted a Ford Cosworth engine. He toyed with the idea of putting it in the RS2000 instead. In the end, he thought better of it: 'The thing is, it's not about sheer power – it's about enjoying the driving experience.' Having driven the RS, we couldn't agree more.

Specification
1974 Ford Escort MkI RS2000
Engine xxxxcc/4-cyl/xx -
Power 160bhp@7100rpm,
Torque 125 lb ft@3500rpm,
Gearbox 5-speed manual,
0-60mph 6sec,
Top speed 128mph,
Economy 38mpg,
Price new £1965,
Agreed value £48,000

What's it like to drive?
The engine starts on the button. The idle is quiet and stable. The competition clutch is light and progressive and the engine so well-tuned that setting off smoothly is very easy. The car's docile enough to drive normally, but peppy enough to be instantly responsive. The wet road prevents me from exploring the 5500 to 7100 rpm power band, but I'm assured it absolutely takes off. Steering and brakes require effort but are very responsive and provide perfect feedback. The race seats are surprisingly comfortable and the suspension does its job without ever making its presence felt. Body roll is absent and the wide wheels stick to the road like glue. Driving someone else's pride and joy is always nerve-wracking, but the RS is so well-fettled that after about half-a-mile of country roads, I'm completely reassured it isn't going to do anything silly unless I ask it to. For me, the driving experience is paramount. So many cars look good but are a disappointment. This one really showcases Andrew's talent and experience on every level.
Specialists
◼️ Burton Power (Ford parts): burtonpower.com, 020 851 89136
◼️ Evans and Son Rally Spares: evansandsonrallyspares.co.uk, 01994 240549
◼️ GRP4 Fabrications (Escort motorsport parts): grp4fabrications.com, 00 353 91 763544
◼️ Historic Motorsport (South West): historicmotorsport.net, 01395 233338

Project tip
First, be aware of the horrendous amount of money and time your project will take! But there's really nothing like the feeling of having put something back on the road yourself. You've done everything, you know it inside-out and it just can't compare to simply buying a restoration off-the-shelf. Do have a plan, and know what you want to achieve at the end of it. Identify what you'll need and what's available. Set achievable goals to help you progress the work without being overwhelmed by it.
Andrew's Classic CV:
◼️ 1971 Ferrari 308 GTB
◼️ 1973 Jaguar E-type V12
◼️ 1974 Porsche 911 3.2 Turbo
◼️ 1986 Ford P100 pickup
◼️ 1999 Ford Escort van

Me and my resto
Wooden Wonder
John Boggis of Lymington had always wanted a Marcos made of wood
My story starts in the late 1960s. There was an article in the Sunday Times magazine about a solicitor (yes, really) who built a sports car with a wooden chassis, a Marcos, from a kit in a weekend. The car's shape was eye-catching and it caught my imagination. I had to find one and eventually I did and so my latest, and according to Mrs B my final, project started.

PUH50G, a 1969 1600GT with a Ford crossflow engine arrived in 2018. The first of this style of Marcos (1967) had a Volvo straight six but the crossflow was reasonably light and more than adequate for such a small and light car. The engine went to a local machine shop to be freed up, bored to 1700 and have new valve seats fitted. Then, off came the one-piece bonnet complete with its Herald catches.

One of the fun bits of rebuilding cars like this is finding out the source of original parts. The rocker switches in the dash are not MG (too narrow) but Austin Allegro, the rear light clusters are Vauxhall Victor FB, also used by Lotus on the Elan.

The Marcos owner is fortunate to have Rory McMath who owns Marcos Heritage Spares. He worked for the company back in the day is a really decent chap and always ready to help and advise. I decided to buy a new loom which Rory got for me. Kit cars are not renowned for their wiring and the large number of scotch connectors told their own story. I like wiring. It is clean and logical. All you need is a meter, a wiring diagram, a decent ratchet crimper and the odd screwdriver. My top tip is to get a wiring diagram and go over it with a fine black pen to make sure it is legible. Then get it blown up to A3 and have it laminated.

By now it was nearly Easter 2019, and it seemed to me that I really should start on the body. I knew that the neighbours were all going away over the Easter weekend and so I decided to go for it. I used my Mirka DA sander (a brilliant tool) coupled to my Einhall vacuum. I bought 100 discs of 80 grit (and used nearly all of them) and off I went on a voyage of discovery. Most of the cracks turned out to be in the paint (of which there were 10 coats). Methodically I worked though the layers, watching as the contour lines moved, until I felt I was near the (paper thin) gel coat. I got the whole thing done in two days.

The GRP body was pretty good with only a few obvious gel coat repairs needed, but I realised that I did have two main areas of rot to deal with in the chassis. The first was under the driver's heels and the second was more extensive and ran aft of the back axle into the boot floor. These had been tinkered with before. I excavated the driver's floor from inside the car. The mushy fibre stuff came out easily and I continued until the "balsa" filling was dry and firm. I then shaped a piece of 18mm ply to fit and epoxied that in place. There was no need to add the original 3mm ply on top; I just feathered it all together. When Rory saw it he approved.
I attacked the back from underneath. This was a bigger area but as before I excavated back to sound sandwich and then epoxied ply back in place. The engine then went back in, and had a new electronic dizzy for old time's sake.

So with the wiring done and the engine and ancillaries fitted it was time to turn the car on. She started almost immediately. By now, late summer 2019, I was thinking about paint. I asked Rory what to do it the aim was send it in February 2020. Then came lockdown and the paint shop was furloughed. Eventually it was repainted in the original factory colour of Ford Silver Fox. Work has continued apace: Trim, carpets and the most tiresome job - the rear screen. It arrived as an oversize Perspex moulding. The old one was then used as a template and the excess removed with a fine jig saw. Then it is a laborious task to grind off the remaining excess, little by little, to get a perfect fit.
AS FOUND
It was in a terrible state cosmetically with cracking and peeling paint, a seized engine and many bits missing. But it had been in a barn for 18 years which was its salvation as there was very little wood rot in the chassis and it had its original upholstery in quite good condition. By 1970 the wooden chassis Marcos had been replaced by a metal tubed chassis (which rotted more than the wooden ones) but was quicker and cheaper to make.
BONNET
The one piece bonnet frame was powder coated. It was refitted with much better fixings. The captive nuts securing the frame were all rusted solid and although. John cut holes in the wheel arches to get a hand into the voids to install decent fixings with penny washers. The removed plug then went back in and epoxy made the whole thing invisible. The catches have an M cast into them. Jem Marsh said they were specially made for Marcos, hence the M. Er, no. The M was for Michelotti who designed the Herald.
FRONT BRAKES
The front suspension is GT6 but with Marcos spec'd coil overs. The whole lot came off in half an hour. The front callipers (missing) were MGC. John rebuilt the front end and put in new brake lines. Automec had the details of the brake pipes, but they were wrong. So, I gave the proper details, and they made the right stuff by return.
ENGINE
John turned to the carb. The bonnet had a really dreadful vent cut in it which completely ruined the lines of the car. It transpired that the original Weber carb had been replaced with a different type which was taller than the original. John found an original.
LOOM
But the loom contains every possible extra and then a few more, so it does take time to work out what goes where. I never did find the red to the rear lights so I ran in a new one. And the dashboard end of the sender unit completely confounded me until I found it tucked away. But an aspect of the lights did defeat me and in some desperation I googled the issue and was led to a Triumph Owners' web site in America where I discovered that the wiring diagram (it is basically the same as a Vitesse) contained an error. Problem then solved.
Driving the car is a hoot. At 6 feet 2 tall getting in an out is, er, challenging, but once in and pretty much lying down, there is enough room. Jem Marsh was even taller and so he designed a pedal box that moves back and forth thus ensuring a suitable driving position.
This is indeed my last project. The Marcos has been a wonderful retirement and lockdown project and marvellous therapy and a rare (and wooden) car has been saved. Rory says only 12 were built to the spec of mine.

Time Taken 3 years
Money spent £7k

Thanks to
Marcos Heritage Spares
Vintage Tyre Supplies
Rick Bugler who has transported the car all over the place.
And friends and family

1975 MGB Roadster
As conventional MGB engine conversions go, Trevor Smith decided to go down a much more modern route…
Dropping a Rover V8 into an MGB shell is a well-trodden route to achieving more power than the original B-series motor can provide. But while planning his own conversion, Trevor Smith concluded that he could come up with something a little bit better. 'My original idea was to go down the Rover V8 route, but after doing some research, it seemed like a lot of work for what would be a lovely sound, but only 137bhp and a basic gearbox. A casual remark by my son about using a Ford Duratec engine got me thinking. I again did some research and found that it was quite easy to achieve 180bhp with a standard 2-litre engine, and because this engine is also used in the rear-wheel-drive Mazda MX-5 MkIII, a modern five- or six-speed gearbox could be used.'
As a retired engineer, it was then that the habits of a lifetime came calling for Trevor. 'I thought that it would be a good challenge to create a classic MGB with modern powertrain and suspension. This would be a classic car with modern day performance, fuel economy and reliability.' To add to the challenge, Trevor decided that he would complete this upgrade without cutting, welding, or modifying the MGB. He would achieve this by designing new engine mountings, modifying the front crossmember, modifying the gearbox crossmember and making a one-piece machined adaptor to connect the Mazda propshaft to the MGB rear axle. Even the exhaust is mounted, utilizing the original MGB fixing positions and the gear-lever comes through in the same position as the MGB. 'I thought that other people might like to achieve this upgrade as a simple nut and bolt procedure,' says Trevor.

Trevor originally used a 2-litre Duratec engine from a Mazda MX-5 MkIII. 'It was my intention to achieve 200bhp with 174 foot pounds of torque, achievable without any changes to this engine, except for having a good induction system and a competition exhaust system – four into two into one. He even had a name for his planned creation – MG B-Tec 200. 'I chose this engine because it had variable valve timing and 173bhp as standard, making it very feasible to achieve my 200bhp target'. The fully rebuilt Mazda engine was installed into the car. But it wasn't all plain sailing, explains Trevor: 'After two visits to the rolling road, we could not get the engine to run as Troy would have liked, and each time not wanting to stress the newly built engine, we aborted the mapping process. The exhaust primaries were not all at the same temperature, cylinders one and three were not getting as hot as they should.'

To fault find by the normal way of changing components was not an option because it could have been the MBE ECU, custom wiring loom, throttle bodies or the map itself. 'None of these components are cheap to change, and as I had already spent over £1000 at the rolling road, and subsequent diagnostics, I decided to take out the Mazda engine and install a running Ford ST150 Duratec unit to prove if there was a fault with the Mazda engine or not.'
On the third visit to the rolling road, it did seem that there could still be a problem with cylinders one and three. A strip down of the throttle bodies and inlet manifold followed, taking extra care on sealing interfaces. The fourth visit did allow full mapping of the engine, and it has remained in the car. The downside of this, apart from the extra cost of going to the rolling road four times, it that the starting point was only 150bhp, so the final figure for this engine is 173bhp with 143 ft lbs of torque, short of my target 200bhp.

The MGB gearbox was substituted with an MX-5 MkIII six-speed unit and propshaft, taken from a 2007 car, which mates up to the Duratec engine. To have the best chance of retaining the original balance of the MGB's handling and allow the handling/ride to be adjustable, adjustable shock absorbers with parabolic springs were used on the rear, and coil over adjustable shock absorbers were used on the front. Trevor had done his engineering homework, too. 'Using the lighter engine and virtually doubling the power output over the original 95bhp B-series engine, the 'roll couple' (amount of weight transfer when cornering) between the front and rear suspension was compromised,' he explains. 'Power oversteer would be a problem, the car would want to go backwards through a hedge at every opportunity. To get more weight transfer onto the front suspension, I lowered the roll centre height by designing a double wishbone front suspension setup, utilising a coil-over damper.' The castor angle was reduced by three degrees and positive camber increased by one degree, to give sharper turn in.

By utilising custom-made engine mountings and crossmembers to substitute the Duratec/Mazda engine/gearbox unit with the standard MGB unit and using the MGB unmodified mounting points, Trevor found that it was relatively straightforward to get all the newer components all working together properly in an older car. 'My only concern was that to have the gear lever end up in the same position as the MGB gearbox, would the rear water take off port on the back of the engine foul the bulkhead? Thankfully it doesn't. I chose to use a MGB V8 radiator as it is the correct width and gives additional cooling capacity, but this is currently too efficient, and I am looking at getting the engine to run hotter.'


The body looked very solid, but when the front wings, doors boot lid and bonnet were removed and blasted, it was considered that the front/rear wings were not good enough to use, so new ones were fitted. The same with both floor panels, so again two new full length floor panels were fitted. The complete car then had a full back to metal procedure, this was the complete underneath and engine bay, but excluded the boot. No welding was required to any other parts of the chassis.
From the outset Trevor wanted the car to look every part the classic MGB, so he kept the interior standard, except that the dashboard was sprayed the same colour as the bodywork.
'I have used all the standard gauges/switches, which presented a problem because the Mazda gearbox does not have a cable take-off. The MGB speedometer is driven via its original cable from the propshaft. The aluminium adaptor for Mazda propshaft connection to the MGB back axle drives a vee belt and planetary gearbox connected to the speedometer cable.'

Due to Trevor's engineering and motorsport background, the design of bespoke components to ensure that no cutting or welding was required to the original MGB, was very satisfying for him. 'Due to the change to weight distribution, the suspension design/modifications and traction upgrades, the result is a well-balanced handling car, where the increased power output can be fully appreciated. Overall, it is very enjoyable that I now have a lovely, fully restored classic MGB Roadster with all the benefits of modern mechanicals.' It turns heads out on the road, too. 'I must also confess that seeing the expression on other drivers faces who have witnessed a turn of speed from an old classic MGB, is enjoyable. But overall, the driving experience makes all the work and initial frustrations very much worth it.'

With the project now complete, Trevor plans to attend classic car shows and gatherings to show that you can have the best of both worlds, a classic car that can be used as a daily driver, one that puts a smile on your face because it also has all the attributes of a modern vehicle. He'll also enjoy using this car on a regular basis for runs and events with my local MG club. But that is not all that Trevor has in the pipeline. 'I am also hoping that other people may want to benefit from the huge learning curve this project has been and buy the special components that I have designed to make this a relatively simple conversion, in order that they can carry it out for themselves. To this end, I guess I would like to use it as a demonstrator to promote what can be achieved.'

Blind Alley
It took a long time to find the correct way to make sure the cooling system was plumbed as per the method used in the original car. Trevor explains: 'In the end, a Mazda MX-5 MkIII expansion tank had to be used, because it also acts as a swirl pot, to aid bleeding of the system.'
Here's how Trevor did it
1. After two weeks of applying paint stripper, wire brushing and pure elbow grease, the complete underneath is back to bare metal.
2. Rear axle installed with anti-tramp bar brackets attached to springs, adjustable shockers, and the solid billet, aluminium prop to axle adaptor fitted.
3. Plumbing completed.
4. Car at the paint shop ready for a fresh new coat.
5. Second time at the rolling road with the Mazda engine, which was later changed for the Ford ST150 engine.

Source Material
As the MGB does not have ABS, the best you can achieve is to lock all four wheels. The standard rear drum brakes were retained, and the front discs were changed for cross drilled/slotted items, using the standard calipers with upgraded pads. 'This seems adequate for normal road use, but a heavy right foot, I feel, would require discs on the rear and four-pot calipers on the front, says Trevor.' A dual circuit brake servo pedal box unit from a later model was used for added safety. This also allowed for the fitting of a Mazda MX-5 clutch master cylinder and modified mechanical advantage to the clutch pedal itself (MGB clutch slave cylinder bore is 31.75mm compared to 17mm Mazda unit). Without this mod clutch travel was stiff and very short.

The original rear axle was retained, but a Quaife torque biasing helical gear limited slip differential was fitted to make best use of the additional power output/torque. Anti-tramp bars were also installed to stop spring wind up/wheel hop. 15 inch 5.5J Minilite wheels with 195/50 R15 Michelin tyres were fitted.

Selected costs
1975 MGB - £1600
MX-5 engine - £300
MX-5 engine rebuild - £1464
Mazda gearbox - £365
Propshaft - £48
Front wings - £1200
Rear wings - £606
Respray - £3500
Exhaust manifold - £600
Exhaust system - £193
MGB V8 radiator - £159
Throttle bodies - £500
Secondhand engine management system - £350

Tech Spec
ENGINE 1999cc/4-cyl/DOHC
POWER 173bhp
TORQUE 143lb ft
GEARBOX 6-speed manual
0-60mph Unknown
TOP SPEED Unknown
FUEL ECONOMY Unknown

What's it like to drive
I've driven various MGBs, but this one is unlike any of them. Not that you'd know it by looking at the car from the outside. Save for the Minilight alloy wheels, it just looks like a regular 'B. But that illusion is shattered once you turn the key in the ignition and fire the thing up. The custom exhaust system emits a bark that is loud, but not too intrusive. Out on the open road, the amount of torque on offer is immediately noticeable – a fact I accidentally confirm when I realise that I've inadvertently pulled away from a junction in third gear instead of first, without any issues at all. This car really is a credit to Trevor, as all his hard work has produced exactly what he wanted – an MGB that drives like a more modern car but retains all the charm and character of the original model. Well done that man.
Long Termer
It took him three decades but Jim Smyth finally finished his Fiat 1500
In the 31 years since I dragged this old Fiat out of a scrapyard and up until last year, I had never driven it! Even then, things weren't exactly straightforward as the first test drive was terrible. It was all over the place! It certainly needed some fine tuning but, after all that time had passed, it was 2021 and I was just happy to be carrying out the shake-down tests at long last.

I bought the car in 1990 from a salvage yard, where it had been left in a very sorry state indeed. I probably should have left it but there was just something about the car that caught my eye. The 1300 and 1500 were a series of nicely engineered saloons and estates made in the Sixties but the Pinifarina-styled Cabriolet was a cut above, plus got disc brakes and a five-speed gearbox. I have to admit, I'd never clapped eyes on one until I found mine! I had owned classics before this one, including a Humber Sceptre, Ford Anglia, Zephyr 6 and various Mini vans and pickups, but I just really fell for the lines of the Fiat when I saw it, despite the poor condition.

The car had been dumped in the corner of the scrap yard, along with another one, so I paid £780 for the two. Once I got them home, closer inspection revealed the horrible truth. The 'spares' car was a 1961 1200 which had initially looked to be a better example. Sadly though, it had been shotblasted very poorly, with every panel badly distorted so I stripped it completely, removing all the useful parts and scrapped the shell – unthinkable nowadays, but this was 1990 after all. Turning my attention to the 1963 car, I reckoned it would be a two-year restoration so set about preparing it. I didn't just want to patch it up and get it running – I wanted to do it properly.
As a former welder and fabricator looking after plant for a construction firm, I'd learned a lot of the years and I later had my own MOT station (which I've since passed onto my son). Having the ramp was really useful, as I was able to use the facilities for certain jobs, while sometimes I'd have assistance from some lads who were working for me. During other quiet periods, I'd spend a day or two cutting rust out or making a panel. I even made myself a wheeling machine so I could shape the floorpan, using a sandbag and hammer! DIY was the only way to go. I managed to source parts from various corners of Europe, the majority from a bloke in The Netherlands, but I couldn't just go and buy new panels. Aside from photographs, I had no reference points, either. The arches were tricky, for instance. They took a few attempts!

I was quite confident in what I was doing but one day, for whatever reason, I tucked it away and before I knew it, another decade had passed. Life has a habit of getting in the way but the turning point came in recent years, when my wife Liz passed away. After such a life-changing moment, I became even more determined to get the car finished and so I got going with it again, thanks in part to a great deal of patience from my sons Sheridan and Courtney. This time, I did a lot of the work at home in my garage and have some space at the back where I can do a lot of the detail jobs.
There were some complications, partly thanks to Fiat! The company never officially sold these cars in the UK so they were all left hand drive. However, some dealers decided to give it a go, using steering boxes and other parts from right hand drive saloons. There's even an official plate under the bonnet as proof. However, it wasn't a good job and I've had to improve the whole thing! They chopped up and reconfigured the dashboard - very Heath Robinson. I had to carry out a lot of repairs to improve it. Where they'd plated bits of the dash, I needed to cut out the rot and weld it all back together. One that was sorted, my friend Dave Low helped me with the dash trim and the seats, too. It's almost identical colour to the original seat upholstery. Me and my mate Fred then spent a few days stripping two wiring looms to make one good loom. I got help with only one other area of the restoration and that was the paint, which was completed by a local firm. I didn't like the original shade the car was in, so I had a look through a 1963 Fiat brochure and saw this shade – it's a genuine Fiat colour.
The engine is a 1500 crossflow, which I rebuilt. It's agricultural so not that challenging. I got some standard pistons I picked up from a local firm. The crank was good so all I had to do was hone it out, re-gasket everything, and put it all back together. Once back together, I drove it down the road and it was all over the place and the brakes were terrible. I soon realised the tracking and cambers were out so with help from my brother-in-law Alan, I did the adjustments, including the rear brakes. They're big aluminium drums with a steel liner and a slot around the drum, through which you put a feeler gauge.
I haven't stopped grinning since. I displayed it at the NEC Classic Motor Show in 2021 and it attracted a lot of attention. MGBs are great as you can buy everything for those but I like more of a challenge. It might take you a bit longer to restore, like 31 years for instance, but it is always worth it in the end!

Inside
The 1500 Cabrio never officially made it to the UK, so Jim's dealer-converted example is a real rarity. He soon found out the work wasn't to a high standard though and had to split the crudely welded dash apart, in order to re-weld and then retrim. 'The conversion to RHD wasn't done well but I've made everything fit just that bit better!'
Engine
Fiat's 1300/1500 saloon arrived in 1961, with the 1200 Cabrio getting the 66bhp unit upgrade in '63. Jim finds the 0-60 time of 14 seconds more than acceptable. The pushrod engine in his car needed a rebuild, so he fitted new pistons, a full set of gaskets and new ancillaries among other general items. 'It runs well, goes well and sounds appropriately Italian!'
As found
Found in a scrap yard in 1990, Jim's Fiat 1500 Cabriolet came with a free spares car for £780. He very nearly gave up before he began but was so captivated by its styling, he says he began work straight away. 'It was supposed to take two years…'
TIME TAKEN
31 years

MILES SO FAR
1800

BEST HELP
Having fabrication skills was essential in this case so it's so important to learn how to do it. Or buy a car that's already been restored!

Me and My Resto - Porsche 914
I'd owned a couple of four-cylinder Porsches before, a 944 and another 914 but wanted a six-cylinder as I felt these lacked the character, I'd become accustomed to with Beetle ownership. I didn't want a 911 as they were regarded as tricky, so spent four years upgrading my 914, but my wife never liked this car as it was to firm and too loud.

Then in 2014 my car was at the Amberly Museum classic car picnic and a chap approached me as he had a 914 project for sale, which I bought, but it certainly was a project! The shell's rotten metal had been replaced, but then stood on its side acting as the side wall of a car port, the bonnet, boot and doors in the garden and interior in the attic. It took all day to find everything.

Things didn't get going for five years until I retired, meanwhile I'd found a 1971 2.4 T spec 911 engine, it was 10 years before I finally built that. I stripped it down, had the crank reground and the oil bypass modification done. The pistons just needed new rings, but the barrels weren't in good shape so new ones had to be purchased as well as an upgraded oil pump. I upgraded to hydraulic cam chain tensioners and the camshafts reground and hardened.

The shell was sound, but the previous owner had started a right-hand drive conversion, so the first thing I did was to undo that work before starting on the doors, bonnet and boot but soon realised they were all beyond redemption and found new panels.

The replacements all needed repairs but once solid I could mount them to the shell, but the bonnet just wouldn't fit, it was at least 30mm too long. Inspection revealed extensive crash damage and rust repairs which I thought I would have to cut out, however its surprising how much you can move metal with a mallet and pieces of wood! With everything fitted it was off to a bodyshop to prepare for paint but no surprise he found more rust to repair before it went for paint. Its Mexico Blue - period Porsche colour but for the 911 not 914.

Refurbishing the running gear was just a matter of cleaning, painting and new bushes, bearings and ball joints and was all done by Christmas 2019, but wasn't installed until March as it was too cold in the garage! The front struts and larger vented brake disk and calipers are from a contemporary 911 which allowed me to fit the 5 stud Fuchs wheels as well as adding the extra stopping power, a sensible upgrade with the extra power.

The rear hubs were obviously the original four-stud items, so they had to be modified for the five-stud wheels. This is actually a simple job of removing the old studs then drilling new holes at the appropriate spacing and pressing in new studs. I built a new wiring loom as the original was in no state to be used. I pegged out the old loom on a sheet of 8x4 wood and replaced one wire at a time.

Once the car was built, I took it to be rolling road tuned before being MOT'd where it passed with no advisories, but 100 miles later a rattle revealed a blocked oiler tube had starved and worn a tappet. With that fixed and 1600 miles later its running perfectly.

The car is a nice tourer, the six-cylinder engine makes a quieter but much nicer noise than the four pot in my previous car. The suspension on my car is more compliant the sound insulation is more effective and my wife is now happy to come with me on outings.


The gear linkage is more than two metres long! it goes to the back of the car and into the 'box from the back. The worn mechanism had to be built up with weld and ground to shape

Once built it took a week to test the wiring loom. It was like being back at work validating computer systems. I wrote a test protocol to check for shorts and the component worked

My rust-free shell wasn't rust free. The sill and 'hell hole' the double skinned area below the battery tray meeting the chassis rail, cabin bulkhead and engine compartment all needed repairs

After 100 miles there was a bad rattle and I found badly worn tappet adjusters, so replaced them but 100 miles later the rattle was back. I discovered a blocked oiler tube which I cleared and with new tappets it's been fine since.

I always wanted a six-cylinder engined 914 so had bought the engine 10 years ago to convert my four-pot, but I decided to build from scratch, and now I have the 914-6 badges on it!

Timescale:
Bought shell in 2014, but didn't start until I retired in March 2019. I worked around six hours a day until it was MOTd in February 2021, so just under two years in total.

Cost:
After selling the un-needed four-cylinder engine and other parts for £2500, the build totalled around £30,000, but as the car has been valued at £35,000, I'm happy with that.