Meet the Team
Shimano's Multi-Service Team and STEPS Demo Tour Team will be traveling to events around North America in 2019. Learn a little more about the team and be sure to say hi at your next event!
Shimano Multi-Service
Shimano Multi-Service technicians have been supporting riders for over 34 years at everything from regional rides and races to elite world class competitions. Our mechanics are part of a global team that serves as the official technical support for USA Cycling and the UCI.
Samuel Elenes
Born in Cali, Raised in Los Angeles.
Cut my teeth on the Elite and WorldTour Circuits.
For the time not spent turning a wrench, you might find me behind a camera lens, on the trails, or in the kitchen. If our paths should cross, just know that I'm steady with a wrench and quick with a laugh, so drop by and say 'Hullo'.
William McPhearson
William is originally from Lynwood, California and currently resides in Costa Mesa, California. When he's not on the road, he enjoys walking with his Greyhound and his wife, playing guitar and riding his motorcycle.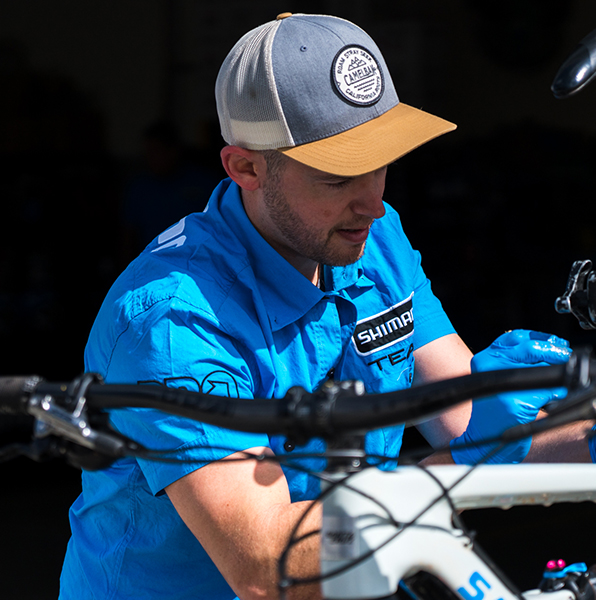 John Alfaro
Born and raised in the foothills of Southern California. When not wrenching away you can find me taking full advantage of the California weather on the Road, MTB and/or BMX as well as in the water. Im a sucker for cookies, coffee and bad jokes so feel free to stop on by with them all!
Brandon Taylor
Brandon is originally from McCall, Idaho and can now be found splitting his time between San Clemente, California and a Big Blue Van at a bike race near you. When not on the road he enjoys traveling to new places, spending time outdoors, photography, and relearning how to ride his bike. If you see him on the road be sure to give him a warm cup of coffee, some cookies, or at the very least, a high five!
Shimano STEPS Demo Tour Team
Meet the Shimano 2019 STEPS demo drivers. They'll be traveling throughout North America to key consumer events so you can test ride both our e-MTB and e-City electric bike systems.
Adam Kidd
Shimano STEPS East Coast Demo Driver
Adam is originally from Tampa, FL but now lives in Charleston, SC with his wife and two cats. When he's not on the road, Adam enjoys pedaling his road bike, hitting the local trails, camping, and kayaking.
Robert Plumb
Shimano STEPS Mountain States Demo Driver
Robert loves to be outdoors but especially on two wheels. Bikes make him feel free, whether it's a long sustained climb or a ripping single track decent through the woods that's where he is happiest. When he isn't on the bike you can find him searching for a great photo spot or in the winter ripping corduroy on skis.
Josh Jones
Shimano STEPS West Coast Demo Driver
I was born and raised in southern California and grew up at the beach and on the mountains. I share my passion for mountain biking with my 9-year-old son and love enjoying the outdoors together. I strongly believe that laughter is the best medicine and that having fun promotes a better way of living. Hope to see you on the trail!