It's the question on every car buyer's mind: diesel, petrol or hybrid? We answer it by driving three 5-series from Edinburgh to Bristol
Words Chris Chilton | Photography Alex Tapley
Want to know a surprising fact about Edinburgh and Bristol? The one on the east coast is actually further west than the one on the west. Here's another: Bristol and Edinburgh were recently ranked first and second in a list of Britain's greenest cities. That's according to a study conducted by a property buying firm that compared Britain's biggest cities for green space, recycling rates, carbon emissions, energy consumption and number of seats held by the Green Party. So we thought we'd acknowledge the fact by chewing through a load of fossil fuels travelling in, around, and between the two.

The test cars: 530e hybrid vs 530d diesel vs 530i petrol
But rather than do it in just one car, we're going to do it in three. Three BMW 5-series to be exact: a 530d, 530e and 530i. To the non-car fan that lot sounds like an extract from the appendix of some tedious legal document, but to us the single letter affixed to the back end of each says plenty. It notes that one is a diesel, one a hybrid, and one a petrol.

Of those, only the 261bhp 530d is the 3.0-litre six its badge might suggest. The 530i and 530e both use versions of BMW's B48 2.0-litre turbo four, the 30i getting a 249bhp variant, while the 30e uses the detuned 182bhp derivative found in the 520i, but is augmented by a 9.2kWh battery pack to give 30i levels of go.

This being an eco-themed story, and our starting point the capital city of a country stereotyped for valuing thriftiness, we ought to start with the hybrid. The 530e is part of BMW's iPerformance range that already includes five different model lines from the 2-series Active Tourer to the 7-series, and is only going to grow larger.

Unlike the little i3, which was designed from the ground up specifically as a battery-powered car, and whose optional range-extender engine only ever charges the battery and doesn't drive the car directly, iPerformance cars are more traditional hybrids.
And in keeping with the iPerformance ethos, there's almost nothing to tell other road users you're driving a hybrid bar a discreet 'eDrive' badge on the C-pillar and a duplicate fuel-filler flap on the nearside front wing housing the charging socket. In fact in their M Sport clothes and wearing the same wheels there's almost nothing to distinguish our three cars at all beyond the body styles. The 530e is a four-door saloon, the only configuration available, and the other two are Touring estates. It looks like the most pointless group test ever, when it's actually one of the most fascinating.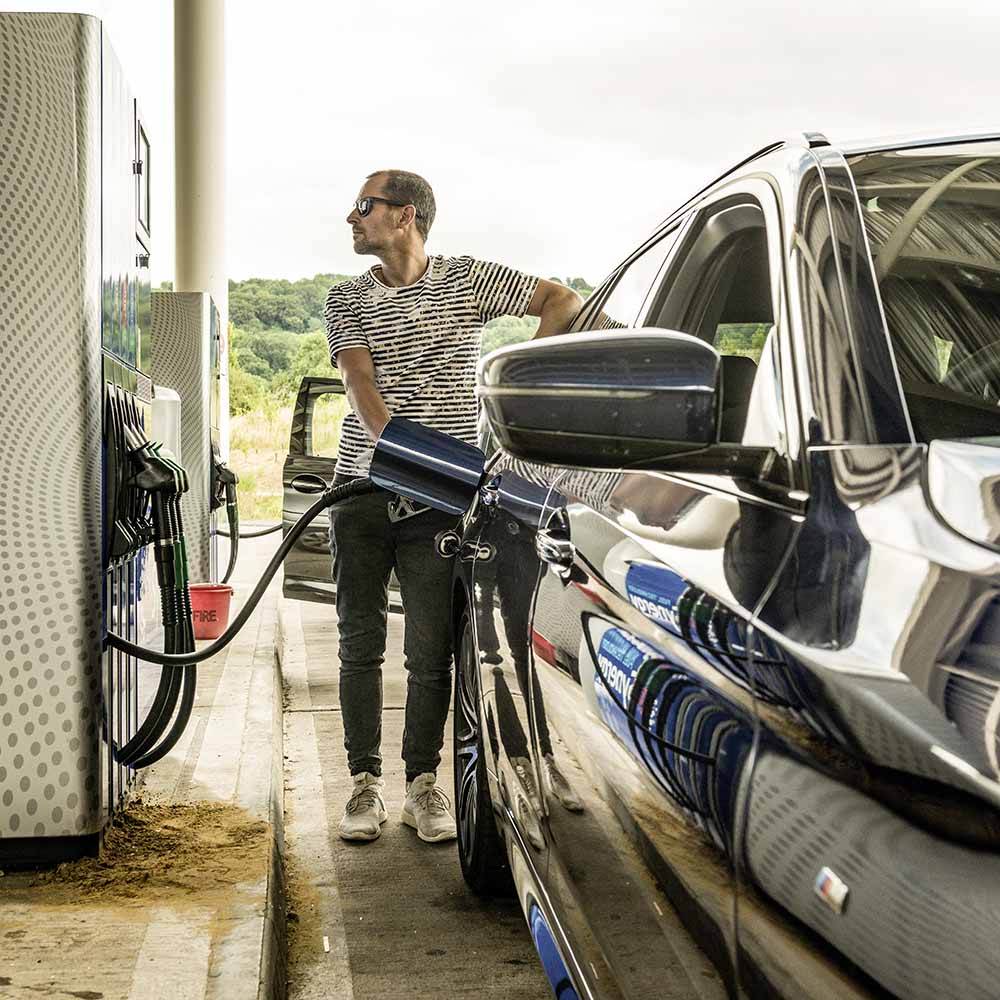 Edinburgh: the comparison test begins
We assemble in Edinburgh, at a BP garage just outside the city centre to wash and fuel the cars. The 530e already has a full charge because driver Tom has used the 'save battery' function to recharge the cells with engine power on the latter portion of his drive here from Sheffield.

It's a useful way of ensuring you have sufficient battery power to drive in zero-emissions mode when you reach a city at the end of a long drive and can't spare three hours to wait for it to charge the conventional way. But it'll have impacted fuel consumption so it's the only time we'll use it during the test.

Trips zeroed and cupholders freshly stocked with water bottles, we head towards the old part of the city. It's a while since I've driven on electric power and even longer since I've been to Edinburgh, but as we glide almost silently past throngs of tourists in the 530e I'm instantly reminded of the great appeal of both.

Edinburgh is the kind of city you could imagine some computer games company designing for an open-world extravaganza. 'We'll have some Victorian streets! And a castle! And a river, and a huge mountain overlooking the whole thing!' Edinburgh has all that and much more. It's not a huge city, being home to fewer than 500,000 people, compared to the eight million of London, but that only makes it more accessible.
Silent hybrid, growling diesel
Visually, it's stunning, but most of all it just has that vibrancy the most fun cities ooze.As we twist through North Bank Street looking down on the famous red and white Edinburgh Festival wheel I get a glimpse of the biggest change since I was last here. Having mothballed its tram network in the 1950s, Edinburgh built an entirely new one half a century later.

Beset by delays and coming in at twice its original £375m estimated cost, the finished 8.7-mile line featuring 16 stops between York Place and Edinburgh Airport is now a huge success. I'll try it later, out of curiosity, and find that the electric trams are nowhere near as quiet as our electric BMW, whose 111bhp zero-emissions powertrain is running the show while the petrol engine takes a well-earned rest.

The trams are, however, substantially less noisy than the growly 530d. The e-motor's meagre 111bhp might not seem much poke to haul around a car as big as a 5-series, and the weight of the hybrid gear adds 240kg over the otherwise similar 520i, but the 530e never feels like it's struggling to grab you that space in the traffic or sprint ahead of that van at the lights.
EDINBURGH TO BRISTOL: 530e vs 530d vs 530i
The feeling doesn't last, though. The 530e is claimed to deliver up to 29 miles of electric driving, but Edinburgh's topography probably isn't making life easy for it and we've barely topped 20 before the blue e-range meter on the far right tells us we're out of charge. We've still got pictures to take and a city to explore, but it looks like we'll be doing that using old-fashioned petrol power because the regenerative braking isn't enough to refuel the battery, and feels less natural than a traditional brake set-up.
530e: the charging experience
Later that evening we arrive back at our hotel, a small affair in the north-east of the city with no dedicated parking. No biggie, there's loads of on-street parking available in the next street so we find a home for the three Fives, grab our bags and head for somewhere to eat. But then we remember we need to charge the hybrid.

Well, technically we don't need to charge it at all. That's a 530e strength. You can drive it like a BEV or hybrid when you want, or like a conventional petrol car – if your conscience can handle it.
The BMW's iDrive screen shows the nearest charging points, as does Zap-map.com on my smartphone. As a 530e owner you'd register with BMW's ChargeNow network and other charging suppliers to be able to use their public chargers, but we aren't so we look for an accessible free charger. There's one at the Radisson Blu Hotel, off the Royal Mile.

We get there, ascend several floors and park in a row of spaces dedicated to electric cars – and right next to a Ferrari 488. It's not some experimental Maranello prototype; it's simply hooked up to a trickle charger. Not quite a hybrid.


The urban mpg figures are in
Then we head back across the river to dinner, and while we wait for the food, we crunch the day's fuel numbers. The figures are morbidly fascinating, a perfect illustration of just how awful a brutal day's town driving can be. Travelling just under 40 miles we've achieved a dismal 17.6mpg in the 530i and only 18.6mpg in the 530d. Even the hybrid, forced to fall back on its petrol engine barely over the halfway mark, couldn't top 30mpg.
The next morning we collect the freshly charged 530e. In theory we've got up to 29 miles of zero-emissions battery range available to us (though we know from yesterday not to expect more than 20). But it's cost us £25 in parking fees to get those 29 miles.

We fill up all three cars and notice a couple of things about the 530e. First, the boot space is reduced from 500 to 410 litres compared to a conventional 5-series saloon's. It's not tiny, but it is noticeably less cavernous. And second, its fuel tank is smaller too, at 46 litres, compared to 66 for the 530d and 68 for the 530i. According to their combined fuel consumption figures that should equate to a bladder-testing range of over 700 miles for the 530d and 692 for the 530i, while even with its 10-gallon tank the 530e's claimed 121mpg should give it a range of over 1200.

But the 530e is basically a petrol 5-series with a battery pack, and once you've drained that battery it's clear that you're going to be getting the same economy as a regular petrol 5-series, and possibly less thanks to the extra weight of the batteries you're lugging about. Which would mean 529 miles on petrol, plus 29 miles of electric propulsion. Total: 558 miles.

Leg two: drive to the Dales
All theoretical, obviously, and we're going to establish our own real-world range figures anyway. The next step in our journey takes in some town driving, sweeping A-roads, a gentle motorway run and then some twisty Yorkshire Dales lanes to get an honest combined figure.

We head south-west out of Edinburgh along the A702, swapping sandstone for sandy-coloured fields struggling to cope with the driest summer for years. The temptation to hoon is huge, particularly in the effortlessly quick 530d, whose 5.8sec 0-62mph performance puts it half a second ahead of the 530e and 0.7sec in front of the 530i. But in the interests of economy I keep my right foot in check.

After Biggar, Coulter and Roberton the 702 melds into the A74M, and from there it's a 74-mile cruise along Britain's most scenic motorway to our lunch stop at Penrith, and the Yorkshire Dales beyond. This is my first visit to this part of Yorkshire, and it won't be my last. This place is stunning: huge sweeping vistas and fast flowing, empty driving roads. The perfect place, then, for the 530i to shine, having kept its head down for most of the trip so far.
All three share common traits up here – good noise and small-bump insulation, strong traction out of corners whether four-wheel drive like the 530d or two-wheel drive like the other pair, and surprisingly accurate and sensitive steering that gives them the feeling of much smaller cars.

But jumping between the three cars you can really feel the benefit of the 30i's lack of mass and the superior body control, making it feel more agile than the hybrid. That said, there are times when you miss the 530e's little extra dollop of torque, and the 530d's massive one, and there's no getting away from the fact that the diesel's fuel gauge is sinking at a far slower rate than the others.

Next we jump onto the motorway and immediately pull off at Killington Lake Services to brim the tanks on all three cars to give us our combined fuel consumption figure, and set us up for a pure motorway mpg number on the way to Bristol. Killington has five electric charging points, but we don't bother with any of them. It would take three hours to recharge the 530e's battery and no one wants to spend that much time hanging around a motorway service station – and definitely not for 29 miles of driving when you can spend five minutes throwing petrol in the tank and get 300 miles in return.
Mixed driving: which car scored the best mpg?
While photographer Alex Tapley settles the bill I get my maths head on. Our run from Edinburgh to the Dales came in at just under 270 miles, and the three cars have maintained their positions in the economy charts: 26.5mpg for the 530i, 33mpg for the 530d and 33.1mpg for the 530e, the hybrid's now wafer thin lead purely a result of being able to rely on its battery unit for those first 30 minutes leaving Edinburgh.

But for the next leg, a straight 197-mile motorway run from Killington services in Cumbria to Gloucester Services 40 minutes north of Bristol, the 530e won't be able to call on its battery pack for support. This will give us an idea of what happens when you forget – or can't be bothered – to charge your hybrid.

Once settled into a cruise down the M6 you quickly forget you're in a hybrid at all. At this pace, in this kind of driving, the differences between the cars become very difficult to detect. The diesel's engine noise is muted; the hybrid's heavier handling compared with the petrol 530i as unnoticed as that car's performance shortfall versus its peers.

And we're reminded what an excellent bit of kit any 5-series is if your job involves putting in some serious motorway mileage. It's tempting to imagine the 5-series as simply a bigger 3-series, but it's so much more. The double-wishbone front suspension and vastly superior sound insulation put it in a different league for refinement. The only thing we have to worry about is the iDrive system's gesture-control function interpreting the arm-flailing accompanying Alex's anecdotes as an instruction to turn the radio volume up and down.
This latest generation of iDrive is excellent. Unlike rival Audi, which is in the process of ditching its MMI rotary controller altogether in favour of touchscreens, BMW has added a touchscreen interface to give the best of both worlds. Even the voice control works, which is more than you can say for most of these things.

With Bristol still 30 miles away, we see the sign we've been looking for: Gloucester services, farmshop and kitchen. If the thought of stopping at a motorway service station – battling the crowds, the din, the stench of artery-clogging fried food and the inevitable phone accessories shop – fills you with dread, you really ought to try this one.

The car park is never busy and there are no franchises or fast food, just a café selling homemade grub using local ingredients, which you can eat inside the spectacular wooden-framed dining area, or outside by a small ornamental pond. There's even a short walk into the surrounding countryside for those who want to stretch their legs.

Operated by the same company behind Tebay services in Cumbria, it's excruciatingly middle class, but it's such a Zen-like experience it's about the only motorway rest area where you do get back in the car after a cuppa feeling genuinely soothed.
The mpg battle reaches the motorway
Of course my rested state almost becomes cardiac arrest when I notice the price of the fuel as we pull onto the garage forecourt for our final fill: a litre of unleaded costs almost £1.50. It's unfair to single out Gloucester because the price of fuel at any UK motorway stop is outrageous, which plays into the 530d's hands. With a real-world range close to 600 miles you've no excuse for putting yourself in the position of paying though the nose.

But which of our 5-series drivers is paying through the nose when it comes to motorway driving? Not the diesel's. The 530d has recorded a solid 45.8mpg over the past 197 miles, perhaps not astounding in this era of genuine 60mpg cars, but a commendable figure for a six-cylinder two-tonne wagon driven at real speeds.

But the real surprise is how close the 530i petrol came to matching it. At a constant motorway cruise there was no need to work the 2.0-litre engine hard to keep pace, and the long eighth gear helped it record an excellent 41mpg. Even allowing for the extra cost of a litre of diesel versus a litre of unleaded, the 530d still proved the least expensive to run on the third leg, but the 530i deserves a big hand.
And what of the hybrid? As we suspected it proved thirstier than the 530i, but not by much, recording a still impressive 39.6mpg. If you buy one of these and don't plug it in you're not getting the most out of it, but it's reassuring to know that when that battery is depleted, you're not left driving a car that drinks like a Lamborghini LM002 in need of a tune-up.

Arriving in Bristol we park up on the city's historic floating harbour, in the shadow of the great Clifton suspension bridge, which still carries traffic from beautiful Clifton to Leigh Woods on the other side of the Avon Gorge. It's a bridge often solely and incorrectly credited to that titan of Victorian engineering, Isambard Kingdom Brunel. Facing us, skulking under a 1960s flyover, broken and almost forgotten, is the 1849 swing bridge, an equally important – but far less feted – structure the great man really did design.

It's fascinating how one engineering achievement can live on for generations, remaining as useful as the day it was born, while another can be hailed as ground breaking when new, yet find itself redundant only 20 years later. Perhaps the common-rail diesel car is falling into that category.

Diesel cars had already made great strides in the 1990s before the legislative focus on CO2 emissions a few years later created the ideal opportunity for them to shine. And as manufacturers poured more money into their development they gave us diesel cars we actually wanted to drive, and not only because they were cheaper.
Running costs and the final verdict
But cost is still king in this market, and in 2018 that means the 530d no longer is. For so long the company-car dream, this 530d is effortlessly fast and still frugal enough to carry it from Edinburgh to Bristol on a single tank.

Unfortunately it also requires you to cough up £7444 per year as a company car, compared to £5285 for the lighter, more driver-focused 530i that's cheaper to buy and, though slightly slower, is also more refined. The 530d's 34.9mpg total for our entire trip smashes the 29.5mpg the petrol 530i achieved, but it's not enough to offset the cost.

Neither, though, can touch the 530e, which incurs just £2551 in company car tax, is exempt from the congestion charge, and achieved 35mpg on our test, just pipping the diesel. Plus the lower cost of a litre of petrol magnifies the victory.

Brunel's creations had a habit of running wildly over budget, so maybe the financial appeal of the 530e would be lost on him. But his most admirable quality was his versatility, his ability to design a magnificent boat like the SS Great Britain one minute, and an equally magnificent bridge, such as the Royal Albert Bridge over the River Tamar, the next.

The 530e has that same versatility. It might not have the 530i's outright agility on twisty roads or the long-distance chops of the 530d, but tasked with the unenviable job of being all cars to all people, it's far less compromised than we might have imagined at the outset of our trip.
BMW 530d Touring xDrive
Price from £50,760

Engine 2993cc 24v turbodiesel 6-cyl
Transmission Eight-speed auto, all-wheel drive
Suspension Double wishbone front; multi-link rear
Made of Steel
Length/width/height 4942/1868/1498mm
BMW 530e Saloon
Price from £45,810
Engine 1998cc 16v four-cyl turbo + synchronous electric motor integrated in transmission
Transmission Eight-speed auto, rear-wheel drive
Suspension Double wishbone front; multi-link rear
Made of Steel
Length/width/height 4936/1868/1483mm
BMW 530i Touring
Price from £47,415

Engine 1998cc 16v turbocharged 4-cyl
Transmission Eight-speed auto, rear-wheel drive
Suspension Double wishbone front; multi-link rear
Made of Steel
Length/width/height 4942/1868/1498mm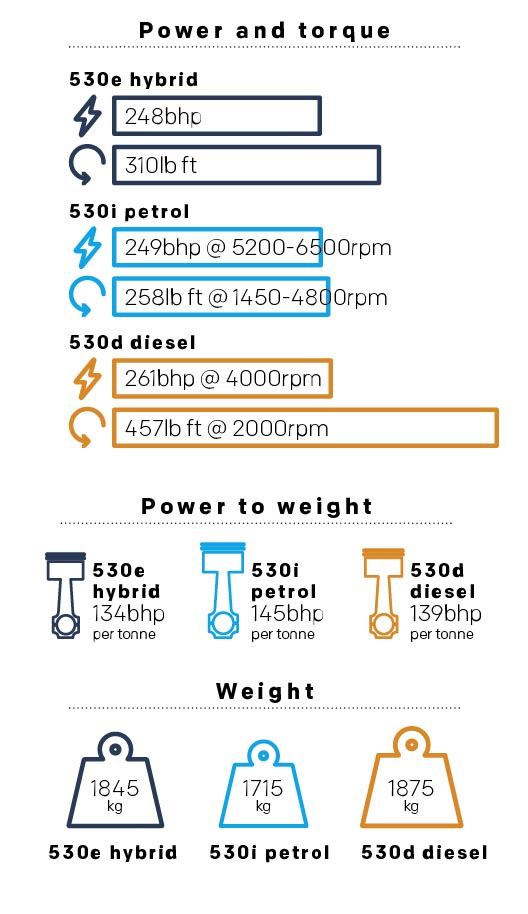 PRIZE DRAW TERMS & CONDITIONS
The prize draw is open to any person, excluding employees and families of employees of The Colt Car Company Limited and Bauer Media

There is one main prize consisting of one Mitsubishi Eclipse Cross ('Vehicle') on loan for a month, which must be used between 1

st

March and 30

th

June 2018 and two tickets to the England vs Ireland on the 17

th

March 2018, a night in a hotel near the stadium on the 17

th

March and £100 on the hotel room account towards food and drinks at the hotel

There is one runners up prize consisting of two tickets to the England vs Ireland on the 17

th

March 2018, plus a night in a hotel near the stadium and £100 on the hotel room account towards food and drinks at the hotel.

Travel expenses to and from the hotel and stadium are at the winners' expense

No cash alternative is available and prizes are non-transferable

The closing date for entries is Monday 5 February 2018 at 17:00

The prize winner and runner-up will be chosen by random selection by the prize draw administrator. The prize draw administrator's decision is final and no correspondence will be entered into

Both prize winners will be notified by email on or before Friday 16

th

February 2018

Full clean driving licence is required by the main prize winner

The main prize winner must be over 21 years of age to drive the Vehicle

Vehicle specification will be predetermined

The prize winner is responsible for providing their own insurance cover with effect from date of collection of the Vehicle

To enter the prize draw entrants must enter their details via this

page

The prize winner will be required to submit a copy of a valid driving licence prior to collection of the Vehicle from their nearest Mitsubishi Motors in the UK dealership

The Colt Car Company Limited accepts no responsibility for delay, loss or damage to the Vehicle following handover to the prize winner

The promoter is The Colt Car Company Limited, Watermoor, Cirencester, Glos. GL7 1LF Registered in England Number 01163954.